Stress relief program calms nerves
Thomas Kennedy
Arizona Daily Wildcat
September 11, 1998


Send comments to: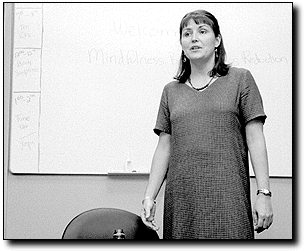 Matt Heistand
Arizona Daily Wildcat

Dr. Ginny Bonner leads a seminar on stress reduction Thursday night at UMC's Wellness Center. Tips to reduce stress include: stop and breathe, focus on the present moment, keep perspective and notice what's going right.


As any UA student knows, stress is an inescapable part of college. Whether it's adapting to new surroundings for freshmen or dealing with midterms and finals, the effects can be overwhelming.

In an effort to help the not-so-cool-headed, a nine-week intensive training course is being offered in the University Medical Center's Health and Wellness Center.

Based on a program designed by Jon Kabat Zinn from the University of Massachusetts, "Cultivating Inner Peace: Mindfulness-Based Stress Reduction" will be held Wednesday evenings from Sept.16-Nov.18, with an all-day session Saturday, Nov. 7.

"The important thing is learning how to cope with stress in a more effective manner," said Ginny Bonner, a nutrition and wellness consultant who will be running an upcoming program on the issue.

"Mindfulness is simply being aware of the present moment as you are living it and can help you to use your own inner resources to improve the quality of your life," Bonner said.

She said the program teaches a variety of techniques designed to enhance awareness, relaxation and well-being through the use of sitting meditation, yoga and paying attention to the effects of stress on the body.

Some University of Arizona students said they know how college stress can affect someone's life.

"Stress tends to make me ineffective and lazy, and I eat a lot more," said industrial engineering junior Andre Budiman.

Amanda Bradbury, an undeclared sophomore, said that although stress wasn't too big a problem for her, other people seemed to have difficulty.

"Other students are a lot more competitive and concerned about doing well than me," she said, adding that taking breaks and spending time with her boyfriend helps her to cope.

Bonner said keeping track of stress levels can help the frazzled put things in perspective.

"It's the practice of being aware of our present moment reality, on purpose, in a particular way," she said during an introductory session held yesterday at the UMC's Health and Wellness Center. Another such session will be held Thursday from 6:30 p.m.-8:30 p.m.

Bonner, who began teaching the program at the UA in the spring of 1994 and has graduated over 325 people in the 21 times she's led the program, has master's degrees in nutrition and psychology and is a registered dietitian.

Zinn, author of Full Catastrophe Living and Wherever You Go There You Are, started the program at the University of Massachusetts in 1993, which has since scientifically been shown to reduce both the psychological and physical symptoms of stress.

The program, which will run simultaneously at the Tucson Jewish Community Center on Thursdays, will cost $250.

For information contact Bonner at 318-1599.

Thomas Kennedy can be reached via e-mail at Thomas.Kennedy@wildcat.arizona.edu.