Volleyball hosts tournament to finish non-conference play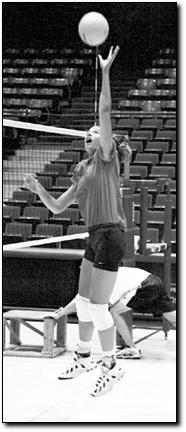 Matt Heistand
Arizona Daily Wildcat

Freshman setter Dana Burkholder (21) sets the ball during practice yesterday. The 4-0 Wildcats are hosting the Varsity Clubs of America Classic this weekend at McKale Center. The volleyball team opens its Pac-10 Conference next weekend at Washington State.


Arizona volleyball, off to a 4-0 start, hosts the Varsity Clubs of America Classic this weekend at McKale Center.

This will be Arizona's first appearance on its home court this season after two successful road trips to San Diego and Fort Collins, Colo.

Western Michigan University, University of Massachusetts, Portland State University and the University of Idaho will be Arizona's last non-conference opponents before they open the Pacific 10 Conference season next weekend at Washington State.

"With such a young team, we need to get as much play under our belt before the conference begins," head coach David Rubio said. "It's a great opportunity to improve, because it's tough to simulate that kind of intensity in practice."

"We're coming off a great weekend, and we're interested to go out and work hard again," assistant coach Charita Johnson said.

Keisha Johnson Demps, coming off a career performance last weekend, again leads the Wildcats into a tough tournament. She and sophomore Marisa DaLee have been a force in the middle of the court, providing the backbone of the team.

"Our strength and experience lies between those two," Johnson said. "They've done a great job, but there's still of work to get better and improve."

Arizona opens play against Western Michigan (3-2) at 11:30 a.m. today, and plays UMass (2-2) at 7 p.m. Arizona is 2-0 against Western Michigan, but the last time the two met was in 1987. This will be Arizona's first encounter with UMass, as well as Idaho.

"I don't have a real clear picture on what they are going to be like," Rubio said of the teams in the competition. "Idaho is an extremely good team. They are well coached, and in a good conference, the Big West. Historically, all four are good programs."

Freshman Jill Talbot is expected to start on the opposite side hitter, replacing freshman Lesley DuBois. DuBois is being trained on the right side, and Rubio says that she is doing fine. Junior Raelene Elam also starts as outside hitter.

"Jill did a great job when she went in there," Johnson said. "She's the best player we have at that position. She held her own and did a nice job."

"Lesley did very well, in fact, she's still doing well," Rubio said. "Raelene is going to give us some good quality swings on the left because she has more experience."

Freshman setter Dana Burkholder has started off strong as well, commanding the team at setter.

"It should be a good tournament," Burkholder said. "It's another good test before the Pac-10 season. I'm really pleased with how we're performing."

Arizona plays Portland State (2-4) at 2 p.m. and Idaho (1-1) at 7 p.m. Saturday.

"We should do well," sophomore outside hitter Allison Napier said. "I think we should win. We're physically better and more dominating, but we shall see."

Bryan Rosenbaum can be reached via e-mail at Bryan.Rosenbaum@wildcat.arizona.edu.