UA cross country opens season at Irvine Invitational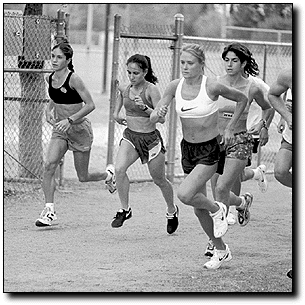 Wildcat File Photo
Arizona Daily Wildcat

Senior Amy Skieresz practices with some of her teammates last year. The UA cross country teams will participate in the Irvine Invitational this weekend in California.


The Arizona men's and women's cross country teams travel to southern California this weekend to kick off the season at the Irvine Invitational.

The tournament is being hosted by UC Irvine, but the meet will take place at Central Park in Huntington Beach, Calif.

UA cross country coach Dave Murray was optimistic about his teams' chances this week.

"We have got as good a chance as anyone to win this meet," Murray said. "There is a strong field in attendance, with most of the competition coming from the other Pac-10 schools - UCLA, Arizona State, Southern Cal (women only) - but you just never know, because it is the first meet of the year."

Senior runner Jeff McLarty offered a prediction for the Irvine Invitational.

"They are all going down, there is no doubt about it, they are all going down," he said.

Murray's travel squads are set, with the women led by senior Amy Skieresz, the most dominant female runner in the nation. Unlike other years, Skieresz has plenty of support behind her. She is joined by senior Brooke Murphy, juniors Kristen Parrish, Claire Becker and Allison Phears, sophomore Katrin Engelen and freshmen Jennifer Burris, Cara Cline and Tara Chaplin.

Murray was beaming about the prospects of freshman sensation Chaplin.

"Tara is a great runner and she looks really good at practice," Murray said.

On the men's side, senior Abdi Abdirahman leads the way. He is expected by many to be in the upper echelon of runners this year. Fellow senior McLarty is expected to be the No. 2 runner behind Abdirahman.

"We have not been this deep since I have been here," McLarty said. "I am very optimistic about the season."

Juniors Jeremy Lyon and Micheil Jones add valuable experience to the squad. Sophomore David Lopez, Hawaii-Pacific transfer Brent Pederson, junior college transfer Mike White and freshman Steve Smith will be counted on to contribute.

Mike Jenkins can be reached via e-mail at Mike.Jenkins@wildcat.arizona.edu.