UA golfer Jenna Daniels is team's center of attention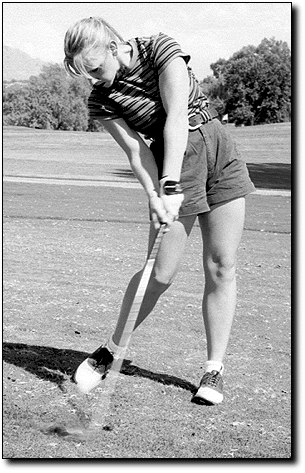 Matt Heistand
Arizona Daily Wildcat

Junior Jenna Daniels, who won a PAC-10 Conference title and was named a 2nd team All American last year, practices on the chipping green at Tucson National. Daniels is ranked seventh in the country and her goals include winning the NCAA title and repeating her first place finish in the Pac-10 Tournament.


Jenna Daniels deserves an award.

She already has a Pacific 10 Conference golf title and was named a 2nd team All-American last year. Still, Daniels is due is for some kind of honor for braving the 100 degree Tucson heat with her teammates three hours a day, five days a week to send golf balls flying.

The hot afternoons seem a small sacrifice for the chance to perfect her game and one day be able to walk the fairways as a professional golfer.

"I think she has a great chance of doing well (in the LPGA)," said Krissy Register, Daniels' roommate and teammate. "If that's what she wants to do, I think she should definitely try it."

Register and Daniels are the leaders of the women's team. Register is ranked fifth in the country and Daniels is ranked seventh.

Both of them swear off any rivalry.

"Occasionally we will go out and play for an ice cream but that's about it," Register said.

Daniels was born in San Diego where she developed her golf game with the support of her athletic father, Paul Daniels, who played football for San Diego State and started playing golf later in his career. He also coached golf at Southwestern College in San Diego.

His love of the game rubbed off on Daniels after she grew too tall to keep doing gymnastics.

With her dad as a coach, Daniels started playing junior golf when she was 11 and played in tournaments throughout San Diego County.

"My dad doesn't teach me as much as he used to but he knows the golf swing really well," Daniels said.

Daniels was the only girl on her high school's golf team but she was ranked third on the squad.

She was recruited to play golf at Southern Cal and UCLA, as well as at UA.

"I really liked the girls at UA and I felt like I belonged," Daniels said. "I wanted to stay close to my family but go far enough so I could be on my own."

Daniels said that her parents can't attend most of her matches because they live too far away but they travel to the NCAA Championships every year no matter where the event is held.

Daniels said that her goal this year is for the team to win the NCAA title.

"For two years, the team was ranked first going into the NCAA's and we have taken third place," Daniels said.

Daniels said she also wants to repeat her first place finish in the Pac-10 Tournament.

"The Pac-10 was a big win. It was just my week and I definitely want to repeat it," she said.

When Daniels isn't golfing, in the short span of time left over after doing homework for a full course load she said she enjoys working out, going shopping and going to the movies like a "regular" person.

With a course average of 73.5 and no handicap, Daniels is hardly like most other women at UA.

"Jenna is a free spirit. She is very likable and fun to be around," women's golf head coach Todd McCorkle said. "She keeps our team loose and enjoys being the center of attention, even if she might not admit it."

McCorkle added that Daniels is often the butt of a lot of team jokes because of her easygoing personality.

"When I first started playing with the team they called me 'Bam-Bam' because I putted horribly and kept 'bamming' the ball back and forth before it went in the hole," Daniels said. "You tend to lose the nicknames once you improve your game."

Daniels said she has come a long way since picking up the game when she was a teen-ager.

Her professional golf coach in San Diego helped Daniels correct her swing.

"Before, she had a closed swing and I got her to square the club face and develop better posture," Kip Pauterbaugh said.

Pauterbaugh, who has been giving golf lessons for 11 years, said that after Daniels made that change a year and a half ago her game has greatly improved.

"She has made great strides and always wants to get better," he said.

Paul Daniels brought Jenna to Pauterbaugh for a higher level of instruction.

"She's beyond my golf ability," her father said. "There were only three or four guys in San Diego that could take her to the level that she wanted to be playing at."

Paul Daniels said that he wants his daughter to go on to the LPGA Tour if she is good enough after she graduates, but is glad his daughter is being realistic.

"Jenna knows that it costs about $100,000 a year to play on the tour and that usually golfers will spend six to seven years raising funds before they play professionally," he said.

Daniels wants to be an elementary school teacher if she does not join the tour.

"I never try to put too much pressure on myself. I try to be the best I can be whether I turn pro or not," she said. "I would never not continue my education no matter what because you never know if you are going to get injured."

Daniels said she developed her love for children through being a counselor at golf camps and teaching golf to children.

"I think Jenna can go as far as she wants to go," McCorkle said. "The Pac-10 title gave her confidence and she is extremely talented."

McCorkle said that because Daniels is all business on the course, she is the team's most focused player.

"Todd is really great. He makes us work hard and he knows what we are going to have to do to win a national championship," Daniels said. "Everybody likes him and I think our team is a lot stronger."

Daniels said that while it was fun to play against the men's team when both the women and men were together last year, it is better to not be sharing a coach.

Rick LaRose, who coached the men and women last year and had to divide his time between both teams' practices, will now coach the men only.

"Now we always know there will be a coach at practice and we get a lot more individual attention," Daniels said.

Daniels said that having teachers who aren't understanding about her schedule makes balancing athletics and schoolwork hard.

"We miss 35 days of school a year and I have to study extra hard and stay organized," she said.

But Paul Daniels said that his daughter works best under pressure.

"She has real good nerves and always comes out pretty good," he said.

Rachel Carasso can be reached via e-mail at Rachel.Carasso@wildcat.arizona.edu.