UA soccer squad continues road swing in New Mexico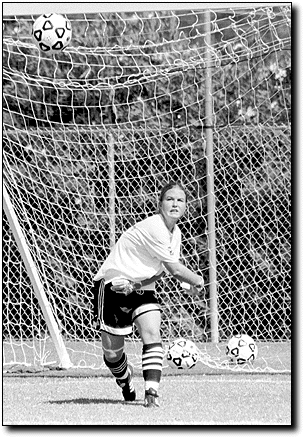 Aaron Wickenden
Arizona Daily Wildcat

UA sophomore goalie Inger Airheart hurls a soccer ball to one of her teammates during a practice Aug. 29 at Murray Stadium. The women's soccer team plays South Alabama tonight and New Mexico Sunday at Albuquerque.


The UA women's soccer team is back in its entirety and ready to hit the road again on a trip to Albuquerque.

"It's great to be back to our normal environment. I think it will help us out this weekend in our games with all of our coaches and players back together again," sophomore goalkeeper Inger Airheart said.

Head coach Lisa Fraser returns to the Wildcats after giving birth to her first child a couple of weeks ago. She will be with the team during its six-game road trip.

This weekend, the Wildcats will face the Jaguars of South Alabama and the New Mexico Lobos on their home turf in Albuquerque.

The first meeting between the Wildcats and Jaguars, both of whom stand at a 1-1, will kick off at 5 this evening.

The Wildcats brought home a win and loss, to Auburn and Wyoming, respectively, after beginning the season last weekend in Laramie.

"We will take the positive out of our game with Wyoming and then leave it behind to focus on the games to come," UA assistant coach Bruce Caris said after last weekend's loss.

Caris also added that the biggest frustration of the games last weekend was the players' inability to get the ball in the net despite outshooting their opponents 40-18.

"This week of practice we emphasized on shooting. We really worked on making our shot connect with the target. We learned from our experiences last weekend and are now ready to overcome them," Airheart said.

Airheart said she and her teammates are especially excited to face the Lobos.

"I see New Mexico as a rival. This will be one of those games where we're so evenly matched that it is going to be so important to be completely on top of our game. We can't afford even one little mistake," she said.

In past matchups, the Wildcats won in '97 and the Lobos in '96.

The match this year will begin at 2 p.m. Sunday.

"This weekend's games are important because we have to win both in order to meet our goal for the beginning of the season (to win seven of the first nine matches). New Mexico and South Alabama will be tough opponents, but we have to win," assistant coach Jen Netherwood said.

Kate Longworth can be reached via e-mail at Kate.Longworth@wildcat.arizona.edu.