Grill-liscious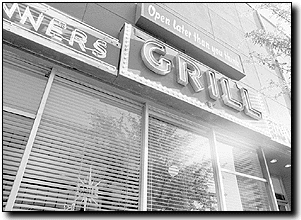 Kristy Mangos
Arizona Daily Wildcat

What to eat at the Grill? Eat the Cap'n Crunch, it's tasty


I have a long-standing love affair with Grill. I have spent half of my life there since I was 14, enjoying the diner atmosphere where retro elements like old furniture and exotic lamps mingle with Edith Piaf and Frank Sinatra.

Grill is also a smoker's haven, one of only a few establishments in Tucson that don't regard nicotine fiends as lepers. While the folks at Grill are hoping that the restaurant smoking ban will be overturned and fail to take effect this October, I think it's a good time to talk about the other aspect which makes this Congress Street eatery great: The eats.

Any of 24 hours of the day, one can stop in to Grill for classics like a hamburger ($5.79) or one of the finest grilled cheese sandwiches around ($4.69). There is also an assortment of pasta dishes, like shells and smoked salmon ($9.49), and really fantastic tortellini with tomato and basil sauce ($7.99).

Grill is famous for potatoes. Tots and home fries are only available after 11 p.m. Their famous french fries ($2.75) can be ordered at any hour, and are especially good (and fattening) with a side of ranch dressing.

IHOP may have breakfast all day, but they don't have omelets with smoked turkey and peppers, or pesto and mozzarella ($5.75). I am especially fond of the chocolate chip pancakes ($4.99), but for childhood nostalgia, there's also the big bowl of Cap'n Crunch. And you can have breakfast anytime you want. It's too exciting.

Prices are sort of high at Grill, but the portions are generous. If you have room, get something sweet. Fountain sodas are good, especially chocolate Pepsi ($2.00). End with a sundae ($3.50). Your jeans won't fit, but it's worth it.