Talks may lead to sit-in compromise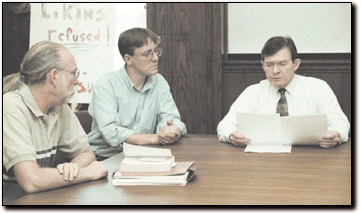 Eric M. Jukelevics
Arizona Daily Wildcat

(From left) Law professor Andy Silverman, SAS organizer and sociology graduate student James Cook and President Peter Likins discuss a resolution containing conditions meant to protect workers in factories. Likins agreed late last night to meet with SAS members in hopes of ending the sit-in.


After a 34-hour sit-in, ragged student activists last night emerged from a negotiation with UA President Peter Likins with the possibility of a compromise.

Likins unexpectedly returned to the University of Arizona president's office at about 10 p.m. and laid the groundwork for a consensus with the anti-sweatshop protesters.

Likins pledged to deliver a document to members of the UA's Students Against Sweatshops chapter today at 6:30 a.m. The statement is expected to include a deadline for university withdrawal from the Fair Labor Association if it fails to fulfill the activists' demands.

Confronted with the activists' sit-in mantra "we will not negotiate," Likins said he previously believed protesters would not be receptive to any compromise.

"I'm now invited, and I accept that invitation," he said.

Student activists, however, resumed hollering their original demands for greater human rights protection of workers who manufacture UA apparel as Likins boarded the elevator to go home at about 10:15 p.m.

Activists and their supporters remained hunkered down in the president's office - unwilling to leave until Likins agrees to their demands or police drag them out.

SAS members invaded the Administration Building Wednesday at about 12:30 p.m., stationing themselves outside Likins' seventh-floor office.

Group members are intent on forcing Likins to sign a resolution that lists conditions designed to protect factory workers who manufacture UA gear for large, multi-national corporations.

"I'm prepared to stay until he (Likins) signs the deal - we all are," said Brian Kalkbrenner, an SAS member. "We're not going to walk out of here without having the deal signed. If that means being carried out, that's what it means."

University spokeswoman Sharon Kha said Likins would have to make the decision to remove the activists.

"Right now, we've been able to conduct our business around them and it's really Dr. Likins' call," Kha said, adding that this is the first time in 15 years she has seen protesters stay overnight in the president's office.

But Likins' earlier comments seemed to indicate that the situation would not end anytime soon.

"I have no current intention of signing the resolution," he told a group of about 30 activists who had been repeatedly chanting "Justice late is justice denied" outside his office door yesterday afternoon.

"If you want to talk, then I'll talk, but if you just want to chant, I'll go do something else," Likins said, after asking the activists to be quieter. "I do feel good about how you've handled yourselves and I came out here to ask you something you may or may not choose to do."

But SAS members say conversations with Likins have produced no results.

The group has already "gone through the diplomatic channels" with Likins during its two-year history, and he has yet to satisfy its demands, said Kalkbrenner, a creative writing and American literature junior.

"He (Likins) continues to promise commitment to action while never actually acting," he said. "We're done talking, we're done negotiating."

SAS is demanding that the UA compel its apparel manufacturers to publicly disclose factory addresses, and pledge to pay workers a "living wage."

They are also demanding the implementation of unannounced independent monitoring and greater protection of women's rights.

SAS' resolution would also force Likins to pull the UA out of an agreement with the Fair Labor Association - an independent monitoring organization - by August if the organization does not comply with the resolution's conditions.

"The FLA is completely dominated by the very megacorporations that are violating human rights in the first place," SAS spokesman Avery Kolers said in a prepared statement.

The group presented Likins with their resolution Wednesday, which he agreed to review, but refused to sign. Yesterday morning, Likins read a roomful of sign-holding SAS activists a rewritten version of their demands that he "felt comfortable with."

"I want you to understand that we feel the same commitment to the same core values," Likins said, going on to outline a resolution similar to SAS'. "This is not a negotiation, this is just a statement of where I am."

While he pledged to "actively participate in the movement to eliminate labor abuses" in sweatshops, Likins said he wants to work through the Fair Labor Association and refused to accept SAS' deadline.

Instead, he said he would withdraw from the monitoring organization if it does not comply within "a reasonable time."

The activists say they are prepared to wait until Likins changes his mind.

"When he says he likes our principles but won't hold to our deadlines, we have to wonder if he really intends to make progress," said SAS spokeswoman Molly Snow. "He is a businessman, he knows as well we do that progress can't be made without deadlines."

SAS members have stocked the president's office refrigerator with food, and they remain in contact with fellow demonstrators and supporters from around the country via cell phone. Activists have also established an outside network of contacts that take care of other communications.

"We're prepared to stay forever or get arrested," said Snow, a speech and hearing sciences and psychology junior.

As long as they are camped out, the activists will be joined overnight by both UA officials and University of Arizona Police officers.

"I'm able to facilitate some things, keep an eye on others," said Kha, who stayed in the office last night. "Things happen when you have this many people here."