Living with Likins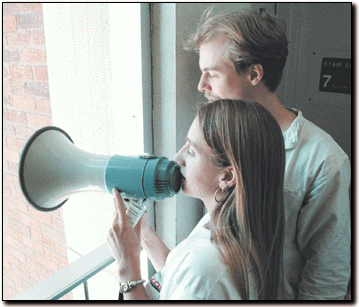 Matt Heistand
Arizona Daily Wildcat

English literature senior Niles Maxwell (right) and East Asian studies senior Laura Snow (left) yell slogans yesterday from the seventh floor of the Administration Building to students below. Students Against Sweatshops' activists plan to spent the weekend in the Administration Building if Likins does not agree to sign their resolution.


As the anti-sweatshop sit-in neared its 24th hour yesterday, one activist awoke and tiptoed his way through the sprawl of bodies to the UA president's office balcony, seeking his breakfast of a Camel cigarette and a canned coffee drink.

John Hardenbergh slept in his clothes alongside 20 to 30 other student protesters for about four hours, and rose from his make-shift bed at about 10 a.m.

Hardenbergh dozed on the floor of University of Arizona President Peter Likins' office and, like his companions, didn't sleep very well.

Hardenbergh, a near-Eastern studies and political science junior, hasn't left the office since 12:30 yesterday afternoon - except to save his car from being towed - and intended to stay "'till the bitter end."

With red eyes and a wrinkled shirt, Hardenbergh said his professors have been supportive of his actions even though he ditched classes all day.

"I just explained, 'I'm participating in an active democracy,'" he said, adding that his political science instructors couldn't argue very much. "That is my education - it's not just learning from books."

From within the mahogany-lined walls of Likins' lobby, the transfer student from the University of Virginia said he was surprised by the student activism in what he thought was a conservative state.

He pledged to sit for as long as it takes, but said he hopes the protest ends before the weekend.

"There's a concert I really want to go to," he explained.

Christine Atwill, a non-degree seeking graduate student, had another reason for concern. She missed her shift at the Arizona Sonora Desert Museum yesterday.

"Mainly what I'm missing right now is bed, but work is not going to be very happy with me," she said. "They said if I got arrested, they'll bail me out."

Atwill added that she misses luxuries like a bed and a shower.

"I got some sleep, but it was very painful," she said. "But we're all still here."

Meanwhile, protesters came and went, signing the Students Against Sweatshops guestbook and wishing the group luck. One of the smallest hands to grab a pen in support of the cause belonged to 3-year-old Maude Prineas.

Her mother, English composition instructor Sarah Prineas, brought Maude to see the protest for "Daughters on Campus Day." Prineas explained to her daughter what a sweatshop is, but said Maude can only partially understand the cause.

"This is the work that I do," she said. "This was a good way to expose her to that."

Amid posters decrying Likins' policies, some of the activists sang anthems mocking the university's standpoint on labor codes. But Prineas' non-violent protest included a game of "pickup sticks" with fellow protesters.