UA closes out home schedule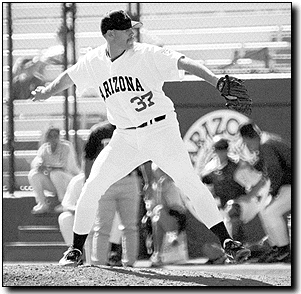 Ian C. Mayer
Arizona Daily Wildcat

Junior pitcher Josh Pearce (37) winds up for a pitch during a game at Sancet Field. The Wildcats play in their last home series of the season beginning tonight at 7 when they host Southern Utah.


Just because it's Southern Utah doesn't mean the UA baseball team can take its next three games lightly.

The Wildcats (29-16 overall, 10-8 Pacific 10 Conference) play in their last home series of the season beginning tonight at 7 when they host Southern Utah (12-29 overall) at Frank Sancet Field. The series continues Saturday at 7 p.m. and Sunday at 1 p.m.

With a scheduled bye-week in the conference schedule each season, coaches look to fill the void by playing an independent that doesn't care about traveling into the other team's domain.

"There aren't very many independents left. In fact there are only two and now Southern Utah is even getting into a conference," UA head coach Jerry Stitt said. "We can't go to Miami or have them come in, so the closest team is Southern Utah. We had an opening and so did they, and they also like to come down here to play us. We didn't have many options."

The Wildcats are riding a nine game winning streak and are inches away from a berth in the NCAA Tournament. With Southern Utah coming in, the Wildcats are looking for a sweep, but understand that if they take the Thunderbirds lightly, UA could be surprised.
UA's Probable Starting Lineup
   Player, Position    Avg. HR RBI
1. Troy Gingrich, CF   .341  1  22
2. Andy Juday, 2B      .283  3  22
3. Keoni DeRenne, SS   .399  2  44
4. Shelley Duncan, RF  .293 17  59
5. Ernie Durazo, 1B    .324  3  32
6. Erik Torres, 3B     .288  3  30
7. Kenny Huff, LF      .315  3  31
8. Ben Diggins, DH     .196  5  20
9. Dennis Anderson, C  .337  6  36
"We aren't looking past them by any means because any team can be beaten," said junior starting pitcher Josh Pearce, who will be given the ball tonight. "We should beat them three times, but if they beat us it's like winning the world series for them. We have to play against the game, not our opponent. We can't play to the capability of our opponents."

The short history between the two programs has the Wildcats holding a 4-0 advantage over the Thunderbirds, with Arizona taking both games in Tucson last season, 16-3 and 13-1.

The series also marks the close of a short, but productive Wildcat career for senior second baseman Andy Juday (.283 average, 3 HR, 22 RBI), who transferred to UA after three seasons at Kansas.

"This is our last home games of the season and the last ones for Andy in his career, so we want to come out with three wins," said sophomore shortstop Keoni DeRenne, who has hit safely in each of the Wildcats' nine straight wins.

With Arizona having just completed two straight sweeps of Pac-10 teams, the possibility of getting lackadaisical in this series is there, but that possibility doesn't seem to bother the coaching staff.

"No, not with these guys it doesn't bother me. It is an important weekend for us to stay on our game and they know that," Stitt said.

DeRenne reiterated Stitt's comments.

"These games can kick you in the butt if you get lackadaisical," he said. "It is a break from the conference, but they (Southern Utah) will be up for it."

Dan Rosen can be reached at Dan.Rosen@wildcat.arizona.edu.