Confidence will be key to Wildcat victories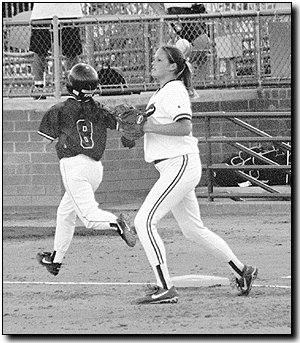 Eric M. Jukelevics
Arizona Daily Wildcat

Sophomore first baseman Erika Hanson (7) tags a runner out at first base during a game against California at Hillenbrand Stadium. The No. 3 Wildcats are traveling to Oregon for a weekend series.


The No. 3-ranked UA softball team heads to Oregon with its players feeling more upbeat than their recent record might indicate.

"We're going to approach this series with a lot of confidence and ready for fun," sophomore first baseman Erika Hanson said. "We're out there because we love the game, so we're just going to play our game because that's why we're here."

UA is coming off a weekend home series that saw a split, a 4-2 loss and 3-2 win, with No. 13 California and a 3-2, 2-0 sweep over the No. 10 Stanford Cardinal. Arizona has lost five of its last 10 games, all but two of which counted in the Pacific 10 Conference standings.

The Wildcats (37-9 overall, 9-5 Pac-10) will begin the series in Oregon with a doubleheader starting at 1 p.m. tomorrow against No. 14 Oregon (32-17, 5-9), and continue Sunday at No. 12 Oregon State (38-13, 9-5).

"We're going out there the same way we have all year," UA head coach Mike Candrea said. "Trying to get better and better with each game."

With all Pac-10 teams contending for NCAA play following the regular season, the weekend in Oregon will play a key role in Wildcat softball.

Arizona is tied for second place in the conference with OSU behind No. 1 UCLA (45-2, 12-2). Oregon is currently the lowest ranked Pac-10 school, showing the power of the conference.

"We definitely can shut these teams down," UA freshman pitcher Jennie Finch said. "I'm pumped up and as long as we play Arizona softball and are not timid, we'll do okay."

In facing the Oregon schools for the second and third times this season, Finch said, "We know what they got, so we just need to jump on the other team right from the start."
Wildcats Probable Starting Lineup
 P  Becky Lemke
    Jennie Finch
 C  Lindsey Collins
1B  Erika Hanson
2B  Katie Swan
SS  Felicity Willis
3B  Toni Mascarenas
LF  Lauren Bauer
CF  Nicole Giordano
RF  Chrissy Gil

The Wildcats swept the Ducks in a doubleheader at home March 26, with sophomore pitcher Becky Lemke earning the 9-1 win and Finch an 11-6 victory. Against the Beavers, UA split, Lemke with the 4-0 loss and Finch the 3-2 victory. UA also lost to the Beavers 3-2 at the Kia Klassic in Fullerton, Calif., March 20.

"When it comes down to it, we're the better team, " Finch said of Oregon State. "I'm not worried."

Oregon State successfully swept No. 4 Washington last weekend, and split with UCLA, while the Ducks are coming off four defeats by the same two teams.

The first game with the Beavers will fall into the hands of junior pitcher Tarrah Beyster (4-1 with 1.73 ERA in 36.1 innings) who was named the National Fastpitch Coaches Association Softball Player of the Week.

But Candrea is not concerned with the Wildcats' competition.

"We need to hit the ball when we're up, and catch when we're out," he said. "It doesn't matter who's in the other dugout, what matters is what Arizona softball is doing."

And to keep that focus, Candrea twisted a new strategy with practices this week in preparation for the Oregon schools, with the addition of individual coach and player one-on-one meetings and Player Appreciation Day.

"We came to practice and switched places," Hanson said of the day. "The infielders played outfield and the outfielders in. It gave us a chance to appreciate what our teammates do."

In this appreciation exercise, sophomore left fielder Lauren Bauer was recognized for her leadership in the stolen bases category with 25 in 27 attempts. Behind her is sophomore center fielder Nicole Giordano, who has set an example on the bases, having only been thrown out four times in her career, keeping her at 20 of 24 for the season.

"We have a good team out there," Candrea said. "We just need to get the pressure off and gain our confidence back.

"If we have our confidence on the field we'll be playing Arizona softball and doing well."

Kate Longworth can be reached at Kate.Longworth@wildcat.arizona.edu.