"Pastiche:" French for "crap"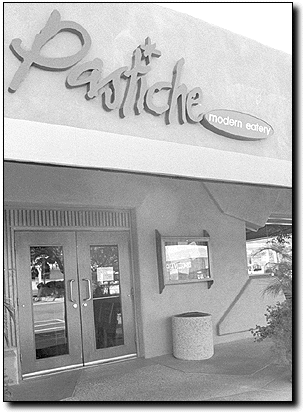 Kristy Mangos
Arizona Daily Wildcat


The menu at Pastiche defines the restaurant's name as an "artistic composition made of bits and pieces." While the self-proclaimed "modern eatery" does combine various elements for creative effect, the result is hardly artistic.

My friend and I were overwhelmed by the variety of Pastiche's menu. Everything sounded wonderful, and it was difficult to choose. I went for the vegetable risotto cakes with spicy tomato sauce ($6.50), which were composed like seafood cakes, and, most disconcertingly, lightly fried. There is something inherently wrong about fried risotto. The sauce, which might have been a good addition to another dish, made the cakes taste sour.

My dining partner started with the mushroom soufflé ($5.75), which came with fried leeks. The soufflé was appropriately subtle, but the bread over which it was served was inappropriately mushy for the appetizer.

We were excited about our entrees, especially the fettuccine with grilled chicken which my friend ordered ($11.50). He was dismayed, however, by the canned artichokes, and the red pepper broth, which he described as "tomatoes in juice."

I was similarly disappointed with my grilled salmon ($14), which was extremely dry and burnt at the edges. It was served on a mound of the world's driest, blandest cous cous. The cherry tomato relish was lovely, but it couldn't save the dish.

We decided to stay for dessert, although the Michael Bolton blaring over our heads wasn't doing much to entice us. The tiramisu in a martini glass ($5.50) sounded exciting, but it was actually quite difficult to manage. Tiramisu is hard to ruin, yet Pastiche's managed to have the consistency of refrigerated cream cheese.

The service at Pastiche was remarkably terrible. While we were well-attended to at the beginning of our meal, towards the end we were nearly abandoned, although we were at that point the only diners in the restaurant. And though it was no where near closing time, our dessert was accompanied by extremely loud conversation from the kitchen. By the time we asked for the check, we were anxious to leave. Our server, however, got "sidetracked," even after we requested it a second time. If it was so difficult to administer to two customers, I can't imagine how Pastiche handles a dinner rush. Then again, I highly doubt they deserve one.