UA softball team rolls into Bay Area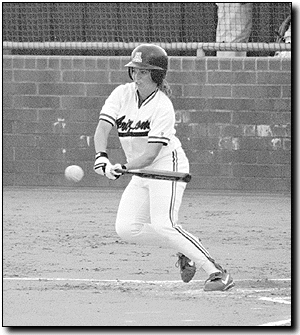 Eric M. Jukelevics
Arizona Daily Wildcat

Sophomore left fielder Lauren Bauer (24) gets a hit during the home game against California April 16. The Wildcats face the Golden Bears again tomorrow in Berkeley.


The UA softball team will try to use its wins in Oregon last weekend as fuel to fire itself up for a trip to the Bay Area to face California and Stanford tomorrow and Sunday.

"We've had a fun week of good practice," sophomore first baseman Erika Hanson said. "I'm looking forward to the weekend. We ended well this past weekend, and I really think we're on a roll."

The No. 3 Wildcats (40-10 overall, 12-6 Pacific 10 Conference) swept Oregon State Sunday 2-0, 11-2 behind the hitting of sophomore center fielder Nicole Giordano, who went 5-for-5 in the second game with two runs and four RBI.

"We were swinging the bat better last weekend," UA head coach Mike Candrea said.

The Wildcats split games with No. 17-ranked Oregon (33-18, 6-10), a shutout 2-0 loss and a 6-5 win. Sophomore Becky Lemke took the loss, but quickly made up for it in a six-hit shutout of the Beavers the next day.

"Becky and Jennie (Finch) are making strides the right way," Candrea said. "We're just going to try to get the momentum from last weekend and go with it this series."

Lemke stands at 21-6 and freshman pitcher Finch is 19-4 - both having previously earned the honor of Pac-10 pitcher of the week, March 2 and April 3, respectively.

This weekend the Wildcats will conclude their final trip on the road before NCAA play begins May 21.

"It's going to be a long road trip, like last weekend," Hanson said. "But we're there for one reason, to try and sweep some tough teams."

Arizona will first match up against the No. 13-ranked Golden Bears (34-17, 5-12) at 1 tomorrow afternoon.

"Cal is a streaky team," Candrea said. "In that they have the ability to come back. We have to get ahead early and keep the pressure on them."

In the Wildcats' last meeting with Cal the teams split the games, a 4-2 loss for UA followed by a 3-2 win.

In that same home series, the Wildcats had a clean sweep of the No. 12 Cardinal (35-18, 5-13) 3-2, 2-0. The doubleheader between UA and Stanford begins at 1 p.m. Sunday.
Wildcats' Probable Starting Lineup

 P  Becky Lemke
    Jennie Finch
 C  Lindsey Collins
1B  Erika Hanson
2B  Katie Swan
SS  Felecity Willis
3B  Toni Mascarenas
LF  Lauren Bauer
CF  Nicole Giordano
RF  Chrissy Gil

"If Stanford can move the ball, they can make it happen," Candrea said. "They're a young team, and we can't give them confidence to let them play well."

Candrea said he just wants his team to focus on what it has been doing all year, focusing on improving with each game.

"The road is always tough," he said. "We've got to go in ready to play and do well. We just have to come out and execute.

"We need to play against ourselves, and if we take care of that, we've got it."

Kate Longworth can be reached at Kate.Longworth@wildcat.arizona.edu