UA baseball team guns for NCAAs against Cal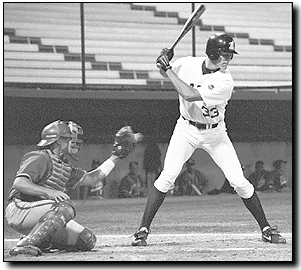 Matt Heistand
Arizona Daily Wildcat

Freshman first baseman Ben Diggins (33) lets a pitch go by during Friday's game against Southern Utah. The Wildcats look to win at least two of three games of this weekend's series against the California Golden Bears to solidify their chances of making the NCAA Tournament.


The California Golden Bears and the Arizona Wildcats have two different goals as they begin play this afternoon in Berkeley, Calif., at 2 and continue Saturday and Sunday at 1 p.m.

The Wildcats (30-18 overall, 10-8 Pacific 10 Conference) look to win at least two of three games and solidify their chances of making the NCAA Tournament, while the Bears (22-29, 7-11) look to knock their conference opponent out of the running for the field of 64.

"I think it is going to take at least two wins (for UA to make tournament), but at the same time we do want a higher seed so we have to win more," said junior catcher Dennis Anderson, who brings a 10 game hitting streak into the series.

While the Bears have struggled with Pac-10 opponents, most recently losing two of three to Stanford, they still lead the league in home runs with 76 and are four away from their school record of 80.

Led by sophomore third baseman Xavier Nady (.375, 21 HR, 57 RBI), who was named a preseason All-American by Collegiate Baseball and Baseball America , and junior catcher Mike Tonis (.396-15-52), the Bears have managed to score 78 runs in their previous eight games.

Also, junior center fielder Curtis Johnson was named Pac-10 player of the week last week by going 11 of 18 with three home runs, four doubles and 14 RBI. In their three game series against Stanford he was 6 of 11 with two home runs, two doubles and eight RBI.

"It doesn't matter where they are in the conference. One through nine, this is a good conference," UA head coach Jerry Stitt said. "Every weekend you go in knowing you are going to face a tough opponent."

The Wildcats will look to counter Cal's offensive prowess with solid pitching from freshman Ben Diggins (7-4, 6.63 ERA), junior Josh Pearce (6-5, 5.68) and junior Mike Crawford (4-4, 6.32), who threw seven innings while striking out eight and walking none in last Sunday's 8-5 win over Southern Utah.

In regards to Nady, who leads the conference in home runs, Stitt said the Wildcats will pitch to him as they would to anyone else.

"You pitch around him or go you right at him. He doesn't hit a home run every time up. Even .400 hitters make outs six out of 10 times," Stitt said. "The situation will dictate what we do with him."
Probable Starting Lineup

1. 	CF 	Troy Gingrich
2. 	2B 	Andy Juday
3. 	SS 	Keoni DeRenne
4. 	RF 	Shelley Duncan
5. 	1B 	Ernie Durazo
6. 	3B 	Erik Torres
7. 	LF 	Kenny Huff
8.  DH  Ben Diggins or Rafell Jones
9.   C  Dennis Anderson 

Probable Pitching Matchups - UA vs. Cal

Friday (2 p.m.)
Josh Pearce (6-5, 5.68 ERA) vs. Jon Shirley (5-4, 4.29 ERA)

Saturday (1 p.m.)
Ben Diggins (7-4, 6.63 ERA) vs. Jason Dennis (2-7, 6.88 ERA)

Sunday (1 p.m.)
Mike Crawford (4-4, 6.32 ERA) vs. Ryan Atkinson (3-7, 5.91 ERA)

After this series the Wildcats will take their first weekend of the season off and then travel to Arizona State to finish out the regular season.

"That's good because we can concentrate on finals, but I haven't heard anyone talk about ASU," Anderson said in regards to the possibility of looking past Cal to get to ASU.

Stitt didn't share Anderson's views on the long break in between games.

"It is not good because it doesn't work to our advantage," he said. "The guys can get rest and get their finals out of the way, but on the other hand when you are playing well you want to keep playing."

Dan Rosen can be reached at Dan.Rosen@wildcat.arizona.edu.