Track team to take on in-state rivals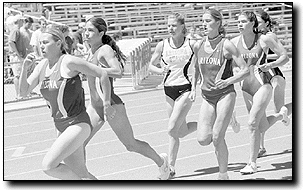 Nicholas Valenzuela
Arizona Daily Wildcat

UA junior middle distance runner Kristen Parrish (second from left) runs in the 1,500-meter finals at the Arizona Elite Classic. The UA track team travels to Tempe tomorrow to face ASU and NAU.


The UA track and field team will face off against in-state rivals Northern Arizona and Arizona State this weekend in Tempe.

The Wildcat women are ranked No. 6 and the men are ranked No. 13 in the latest dual meet rankings.

Both NAU and ASU are well-rounded teams and have given the Wildcats trouble in previous meets.

"Arizona State is very strong in the sprints and showed that at our last indoor meet with them, and NAU has some solid distance and middle distance runners," UA head coach Dave Murray said. "We've had some good meets with these teams in the past."

The meet should be competitive due to the talent on all sides, he said, but the added element of the in-state rivalry should bring the competition to another level.

"Any time these three teams get together there's that added rivalry," Murray said. "It's always a highly competitive meet because none of the teams want to loose to each other."

With the outdoor season coming to a close, only five regular season meets are left, UA athletes will be in search of both NCAA and Pacific 10 Conference qualifying times.

"It's coming to the end of the season," Murray said. "People are going to have to run fast to continue on into the championship season."

Wildcat runners walked away from the Drake Relays in Iowa last weekend with two relay titles in hand. However, the Wildcats did not bring the bulk of their field athletes to the meet. This meet, some of the Wildcat athletes competing in field events will get their shot to qualify for the NCAAs.

"Our major emphasis is on qualifying performances this meet," Murray said. "We still have some individuals that are more than capable of getting qualifying marks."

The meet starts tomorrow at Sun Angel Stadium with field events beginning at 4:30 p.m. and running events kicking off at 6:30 p.m.