Coaching addition proves to be lift in soccer spirits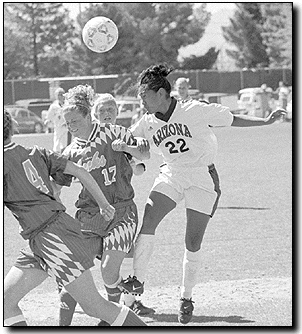 Nicholas Valenzuela
Arizona Daily Wildcat

Freshman forward Tiffany Sabado heads a ball during a spring exhibition tournament against NAU. The team competed in a winning spring training session, going 4-2 in two tournaments, one at home and one at New Mexico.


The UA soccer players will temporarily hang up their jerseys for the summer after a successful spring season. Those jerseys will come down when fall ball begins with the opening of the 1999-2000 school year.

The team competed in a winning spring training session, going 4-2 in two tournaments, one at home and one at New Mexico.

"It was a great chance for us to see where everyone was at," UA assistant coach Bruce Caris said.

The Wildcats finished their fall season 3-12-2 overall and 0-7-2 in the Pacific 10 Conference, and bid farewell to two graduating seniors, leading scorer Nikki Jones and defender Veronica Ramirez.

"There hasn't been a game to tell who's going to step up to fill Nikki's position," Caris said. "But (sophomores) Kim McGehee and Kristi Lorona have been doing well up there... and Marisa Padula, who's been out the past two years due to knee surgeries."

However, spring training did shine the light on a few Wildcat stars. Lorona stepped up with her first two NCAA goals of her career, and Padula netted two goals plus one assist. McGehee and junior Kendra Gefvert added assists to their teammates with two and one, respectively. Sophomore Twila Kaufman also had a goal this spring.

Leading the offensive drive was junior midfielder Brooke McManus, who had five goals and two assists, including a remarkable header goal in the Wildcats' second tournament at New Mexico.

"Our spring play to our fall season was like night and day," McGehee said.

She and her teammates contributed hard training and more focused minds to their success, as well as a new addition to the coaching staff, McGehee said.

Andre Luciano joins the Wildcats, replacing former assistant coach Jen Netherwood. Netherwood, a three-year member of the Wildcat program, left in February to take some time off with plans to eventually return to a Division III program, Caris said.

"There's definitely been an improvement with coaching," McGehee said. "And that is helping us."

Luciano brings to UA personal playing experience, which is positively reflected in his work and attitude with the girls, Caris said.

"I think what helps is that I am a fresh voice out there," Luciano said. "I'm not involved with anything of last year, so I bring in a clean slate."

Luciano also brings a list of experience with him. He comes from a year of coaching at Utah State, after two and a half seasons at Washington State. He graduated from Indiana, and as a goalkeeper he led his team to a Final Four appearance. Luciano also played for Yavapai Junior College in Prescott, Ariz., where his team was the national JC champion in 1991.

"Andre has a great attitude," McGehee said. "He's never negative and he helps with every problem. He knows what he's doing and has aided us in setting goals for our team."

Among the team's goal of winning, Luciano added a few of his own.

"This program has a tremendous amount of potential," he said. "Each player needs to realize she is responsible for the success of the team. We need to play for each other."

Helping the team unity factor will be four new faces to the Wildcat program in recruits Chrissy Sanford, Naomi Chu, Tatiana Robertson and Ashlee Landon.

Sanford joins the team from Ventura Community College, Calif., while the other three players will be incoming freshmen- Chu also from Southern California, Robertson from Northern California and Landon from the Phoenix area.

"I am sure we will see an impact in (defenders) Robertson and Landon," Caris said. "But not as an immediate effect as we will in the other two."

Caris looks to Sanford, who lead her team last season with 45 goals, with high regards.

"From a junior college player, you're expecting them to contribute right away," he said.