Former Nike employee alleges abuse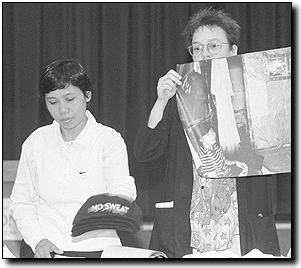 Ian C. Mayer
Arizona Daily Wildcat

Human rights activist Cicih Sukaesih (left) holds up anti-sweatshop hats while Judith Sands, a former Nike Inc. employee, displays a poster of alleged inhumane working conditions in an Indonesian factory. Sukaesih spoke yesterday in the Memorial Student Union Senior Ballroom about her experiences as a factory worker.


In the wake of a Students Against Sweatshops 225-hour sit-in at UA President Peter Likins' office, a former Nike Inc. employee spoke to university students about the conditions she endured at an Indonesian factory.

Cicih Sukaesih, a human rights activist, yesterday encouraged about 60 University of Arizona students in the Memorial Student Union's Senior Ballroom to continue protesting inhumane working conditions.

"I want the company to treat its employees as humans," Sukaesih said through a translator. "Nike's promise is they will cooperate with human rights organizations. They don't fulfill their promise."

But Vada Manager, a Nike spokesman, said the company deals directly with several watchdog organizations to protect its workers.

"Their (human rights groups) feedback is given to the company and our factory partners and many improvements have been made over the last couple of years," Manager said last night.

Sukaesih said that after pledging to offer their employees "living wages," Nike raised salaries to $2.50 each day - which was "still not enough." The raise was equivalent to about 60 cents per day because of the recent crash of southeast Asia's stock market, she said.

Manager said that Nike has raised wages three times in Indonesia during the past year, and salaries increased by 50 percent during that time period.

Recounting alleged sweatshop conditions, Sukaesih said one employee lost her arm in a machine and was offered no compensation, chemicals were used that made workers vomit blood and pregnant women were forced to work overtime.

"I wonder why they ignore the conditions of their workers," she said.

Manager said he had never heard of those alleged incidents.

In addition, Sukaesih said she and 23 other workers were fired in 1993 for protesting the working conditions.

"You're fired and that's the end of the story is Nike's position," said Jeffrey Ballinger, a research associate at Harvard University's John F. Kennedy School of Government who attended the lecture. "Nike knows the only way to increase the bottom line is to cheat the workers."

But Manager alleged that Sukaesih's dismissal was in response to a "disruption in the facility" and did not pertain to anti-factory complaints.

Ballinger added that many workers are forced to work overtime to earn enough money to support themselves.

An Indonesian Supreme Court ordered Nike contractors to pay $60,000 in compensation and allow the former employees to return to work, but three years after the ruling Nike has still done nothing to reimburse its workers, Sukaesih alleged.

"It (the amount Nike was ordered to pay) is about one second of a Super Bowl ad," Ballinger said. "It's nothing."

Students Against Sweatshops member Molly Snow, a speech and hearing sciences and psychology junior, said the speech helped her understand the conditions employees must endure.

"It's really helpful hearing what's going on," she said. "You don't really understand until you hear it first hand."