ASUA officials pledge strong leadership, reforms for 1999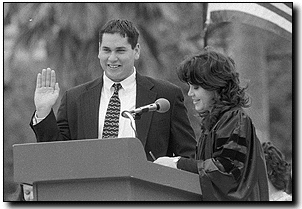 Nicholas Valenzuela
Arizona Daily Wildcat

ASUA President Cisco Aguilar gets inaugurated by Associated Students Supreme Court Justice Romy Schlecht during the student government's inauguration. Aguilar becomes president after serving as ASUA's executive vice president and senator.


ASUA officials yesterday ceded their positions and agendas for reform at the UA to a newly elected crop of student leaders.

Outgoing Associated Students President Tara Taylor introduced the student government's new president, Cisco Aguilar, to a group of about 75 parents, students and university administrators on the UA Mall.

"This guy is just a ball of energy," Taylor said. "His biggest asset is that everybody loves him. And they have good reason to."

Taylor presented Aguilar with a number of traditional gifts, including the UA spirit stick and a punching bag emblazoned with the Arizona Daily Wildcat masthead.

"This will remind you that it's all fun and games," she said.

Taylor also left Aguilar with a few personal mementos: An umbrella to signify several rained-out UA events and a curling iron.

"It's kind of my trademark," she said.

Aguilar, who has served in ASUA as executive vice president and a Senate member, pledged to improve the organization's image.

"We have one year to make significant changes," he said. "We need to keep our focus and our desire to implement change."

Aguilar said ASUA will focus on issues such as tuition and advising, and will also look at implementing child care and computer lease programs.

"I am ready for the challenge," he said.

Aguilar's parents, Rudy and Mary Aguilar, and younger brother Augie Aguilar, were in attendance as the new president was sworn in.

"We're very proud and very excited," Mary Aguilar said.

Rudy Aguilar added that he hopes his son will be supported by UA student media outlets.

"I hope the Wildcat is on his side," he said.

ASUA's new vice presidents and senators were also inaugurated during the ceremony, held under overcast skies at noon.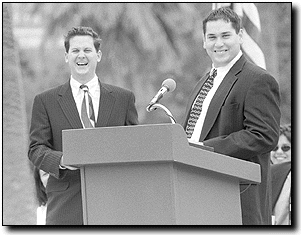 Nicholas Valenzuela
Arizona Daily Wildcat

ASUA Executive Vice President Ben Graff and President Cisco Aguilar laugh together during the Associated Students inauguration yesterday. Graff and Aguilar began their terms as vice-president and president of ASUA.

Aguilar introduced new Executive Vice President Ben Graff, and proclaimed his confidence in Graff's leadership abilities.

"In the Senate, Ben grew," Aguilar said. "He is going to do an awesome job."

Aguilar presented Graff with a plaque, a gavel and keys to his new office.

"Behave yourself," he quipped.

Former Administrative Vice President Ryan Rosensteel presented his successor, Viviane Safrin, with a plaque, keys to her office and a book entitled You Won, Now What? given to him by Taylor last year.

Rosensteel told the crowd he was proud of Safrin.

"You're a trailblazer," he said. "You need to be yourself ... you're one of my very best friends."

ASUA Supreme Court Justice Romy Schlecht swore in 10 new senators, who pledged their commitment to serving UA students.

Sen. Ray Quintero said the new group of officials has "major continuity."

"I am definitely excited for next year," Quintero said. "We have the exact same goals. We're ready to work for the students."