an american adventure
By The Associated Press
Arizona Daily Wildcat
May 4, 1999


Send comments to:
letters@wildcat.arizona.edu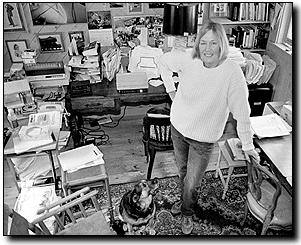 Wildcat File Photo
Arizona Daily Wildcat

Associated Press Author Carol Brightman poses with her dog at her studio in Walpole, Maine on April 1. Brightman wrote "Sweet Chaos: The Grateful Dead's American Adventure," a cultural history that explores the famed band's roots.


Associated Press

She was never a true fan of its music, but Carol Brightman seemed destined to write about the Grateful Dead.

How many authors, after all, could claim a younger sister who spent 25 years as the band's lighting director and a literary agent whose client list included rocker Jerry Garcia, leader of the Dead?

After overcoming doubts and deciding to write the book, Brightman wove in elements of a subject she regarded as more compelling than the Grateful Dead: the political radicalism that shaped her life during the Vietnam War.

The result is Sweet Chaos: The Grateful Dead's American Adventure, a cultural history that explores the band's roots, its tie-dyed and often drugged-out following, and the mystifying way the entire scene somehow endured over the years.

None of Brightman's previous works, including her biography of artist Larry Rivers and a scholarly study of author and critic Mary McCarthy, signaled an interest in Garcia or his band.

Brightman won a National Book Critics Circle Award for Writing Dangerously: Mary McCarthy and Her World. She went on to edit Between Friends: The Correspondence of Hannah Arendt and Mary McCarthy.

But Brightman's literary agent, the late Lucy Kroll, also represented Garcia in his literary and film endeavors. She tried to interest Brightman in writing a biography of Garcia, an idea whose focus quickly shifted to a book about the band.

"She was the catalyst," Brightman recalled in an interview in the long-abandoned farmhouse that she helped restore after moving to Maine from Brooklyn in the 1980s. "But I was full of reservations. I really wanted to write this book about the history of the New Left and particularly the relationship with Cuba and Vietnam."

An activist who came of age in the 1960s, Brightman had co-founded Viet-Report, an antiwar newspaper, and traveled to North Vietnam during the height of the fighting to view the impact of U.S. bombing. She also traveled twice to Cuba with the Venceremos Brigade to ahelp harvest sugar cane, then edited a book about the group's experiences.

Although her musical tastes tended more toward Bob Dylan, Janis Joplin and the Doors, Brightman occasionally attended Grateful Dead concerts, but only as an excuse to get together with her sister, Candace, who ran the lighting booth.

"She is the linchpin," Brightman said, noting that she never would have become involved with the band had it not been for her sister and the insider access she provided. Their brother, Christopher, also worked for the Dead as a set carpenter.

Candace Brightman was an important source for the book, along with Garcia's ex-wife, Mountain Girl, lyricist Robert Hunter and author Ken Kesey, whose acid tests during the Dead's formative years fueled the psychedelic drug culture with which the band is so closely identified.

The author never got to interview Garcia, whose health deteriorated as his drug dependence increased, culminating in his death in 1995.

Brightman recognizes there has been no shortage of books about the Dead, but she said hers was the only one that attempted to present the band in the larger context of the times.

She said many of the three dozen Deadheads whom she interviewed at length appreciated her perspective as an outsider.

"I'd have felt like a fraud if I had written it as some kind of expert," she said. "But I was someone from another tradition of the '60s who was looking to see where my experiences fit in with theirs."

Although they came out of the same era, Brightman's politics were at odds with the Dead's insular world view. From their base in San Francisco, Garcia and the band had little interest in the radicalism that took root across the Bay in Berkeley.

"They were very anti-political. They had no radical bones in their bodies at all," Brightman said. "(Garcia) was interested in reconciling things. He hated confrontation."

In that frenetic time, the nomadic followers of the Dead came to regard the band as a safe haven from politics, she said. That laid-back sense of community endured, helping to explain why the Grateful Dead maintained and even increased its popularity while the political movement Brightman embraced had all but vanished.

Brightman spent three years researching her book and another three years writing it. She attended Grateful Dead concerts around the country, sometimes with her two college-age children. Like many others of their generation, they preferred the band Phish, whose music Brightman agrees is more original.

Still, as she grew more familiar with the Grateful Dead, Brightman came to appreciate its talents. In particular, she enjoyed the band's ability to improvise, drawing upon elements of bluegrass, ragtime and Delta blues.

Just as Sweet Chaos represented a shift from her earlier works, Brightman's next project may take her in another direction. She is thinking about heading off this summer for southeastern Alaska, where she has ancestral ties, to research a book, perhaps a novel, about the taming of that little-known frontier.

On the other hand, she may simply return to the '60s and revisit her long-delayed plan for a history of the New Left, possibly as a memoir.