1998 record

12-1 overall, 7-1 Pac-10, ranked No. 4 in the country

Player stats

Keith Smith QB (113 for 165, 1,732 yards, 13 TD, 7 INT), Ortege Jenkins QB (70 for 142, 1,011 yards, 5 TD, 4 INT), Trung Canidate RB (167 carries, 1,220 yards, 10 TD), Kelvin Eafon RB (145 carries, 532 yards, 16 TD), Dennis Northcutt WR (63 receptions, 922 yards, 6 TD), Jeremy McDaniel WR (58 receptions, 916 yards, 9 TD), Brad Brennan WR (15 receptions, 314 yards, 3 TD), Marcus Bell LB (139 tackles, 3 sacks), Scooter Sprotte LB (58 tackles, 3 INT), DaShon Polk LB (56 tackles, 4.5 sacks), Rafell Jones FS (59 tackles, 2 INT), Kelvin Hunter CB (45 tackles, 2 INT), Greg Payne SS (38 tackles, 2 INT), Chris McAlister CB (34 tackles, 5 INT), Daniel Greer DT (38 tackles, 9 sacks), Joe Tafoya DE (34 tackles, 4.5 sacks), Eli Wnek DE (31 tackles, 5 sacks), Mike Robertson DE (13 tackles, 6.5 sacks)







happy holiday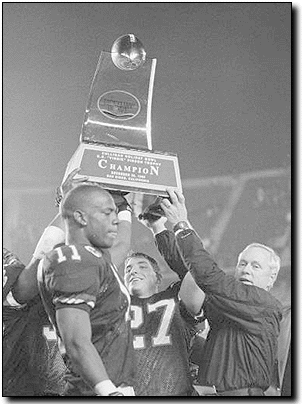 Associated Press
Arizona Daily Wildcat

Arizona head coach Dick Tomey, right, with the help of some of his players, hoists the Holiday Bowl trophy after Arizona defeated Nebraska 23-20 Dec. 30, 1998, in San Diego.


When senior running back Kelvin Eafon plunged across the goal line to put No. 4 Arizona up 23-20 in the Culligan Holiday Bowl Dec. 30, 1998, it seemed only fitting.

Eafon had racked up 17 touchdowns on the season on a team with few seniors, but each of those seniors had made a major impact.

In the end, they led Arizona to a three-point win over Nebraska (9-4) in the Holiday Bowl, finishing off the best season in UA football history.

"Beating Nebraska just put the exclamation point on our season," senior cornerback Chris McAlister said after the game.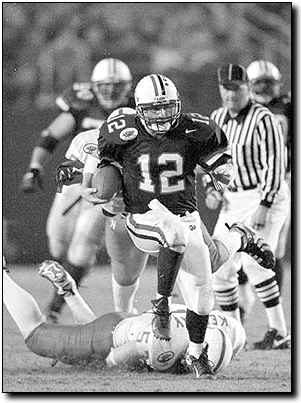 Associated Press
Arizona Daily Wildcat

Quarterback Keith Smith (12) breaks away from the Nebraska defense while scrambling for yardage during the Wildcats' 23-20 victory over Nebraska Wednesday Dec. 30, in the Holiday Bowl in San Diego. Smith was voted the games' most-valuable-player.

McAlister, a consensus All-American was one of the reasons UA had such a great season, finished it by picking off two passes, breaking up a third and snagging a fumble recovery to stop Nebraska's offense dead in its tracks.

"He's Mister All-American, baby," junior outside linebacker DaShon Polk said. "You know what they say, big players make big plays in big games."

The Cornhuskers led the game 13-9 at the half, but they could not hold the lead in the second half as UA junior running back Trung Canidate finally broke free, totaling 101 yards on the night after only 33 in the first half.

"We didn't do nothing different," he said of the game plan in the second half. "It was all the offensive line. They said they were going to come out and establish us and they did."

The final heroes for Arizona, though, were junior quarterback Keith Smith and junior wide receiver Brad Brennan.

Brennan caught Smith's 15-yard pass to put Arizona up 16-13 in the fourth quarter, and after Nebraska responded to go up 20-16, it was up to a scampering Smith to put the Huskers away.

He had big runs for 20 and 8 yards to put the Wildcats down at the 1-yard line, followed by Eafon's touchdown dive to give UA the lead for good.

"12-1 proves we are the best team in Arizona history," junior right guard Yusuf Scott said. "We are one of the best teams in the country."

Arizona finished No. 4 in the country, and with most of the team returning, expectations for 1999 are high.

"It means the start of a dynasty, an Arizona football dynasty," Polk said. "Next year we are looking for the national title, nothing less." - Chris Jackson

Chris Jackson can be reached at Chris.Jackson@wildcat.arizona.edu.