Winning in style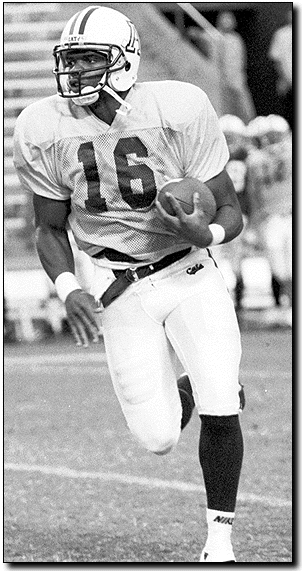 Wildcat File Photo
Arizona Daily Wildcat

"It is the biggest win of my whole athletic career,"


It was a time in the season that defined what the 1998 Arizona Wildcats were all about.

It was a time in the season that sophomore quarterback Ortege Jenkins will never forget.

With 2 minutes, 52 seconds remaining on the clock, the Wildcats began their final drive on their own 20-yard line, trailing 28-24 in Seattle against the Washington Huskies Oct. 3.

After completing 5 of 9 passes for 54 yards, catching one pass and rushing two times, Jenkins had the Wildcats on the 9-yard line with four seconds remaining in a cold and rainy night game at Husky Stadium.

He took the snap from center, dropped back, saw a hole and went for it.

Nine yards and a full somersault in the air later, he found himself in the endzone looking up at the referee with his hands raised and a scoreboard that read Arizona 30, Washington 28.

"We had all kinds of guys running routes. It then just opened up inside and he thought he could make it," UA head coach Dick Tomey said following the game. "Athletes do things instinctively. It was just unbelievable."

Jenkins jumped at the 2-yard line and then was hit in the legs by three Husky defenders, causing him to flip forward. He landed on his feet about two yards deep in the endzone.

"It opened up on the inside and I saw two guys coming, I was at the 7-yard line," Jenkins said. "I got hit on my hip-pad and I knew that I was going to land in the endzone, but I am glad I landed on my feet. I used my ability and just hopped."

The Wildcats ended up winning the game 31-28 after the extra point by junior Mark McDonald.

"It is the biggest win of my whole athletic career," Jenkins said. "I wasn't nervous at all. I just stayed in the pocket, stayed poised and God made it happen for me. It just opened up and I had to go for it."

He finished the game going 10 of 19 for 111 yards and a touchdown. Jenkins also ran for 22 yards on five carries, including the game-winning touchdown, and he even caught a 22-yard pass on a first and 10 in the final drive.

"It was fun. I went out and ran, caught a pass and threw a pass," he said. "It was my dream game."

Dan Rosen can be reached at Dan.Rosen@wildcat.arizona.edu.