Skieresz's courageous NCAA performance highlights season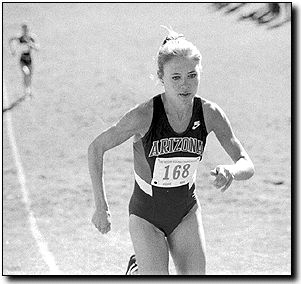 Wildcat File Photo
Arizona Daily Wildcat

Senior distance runner Amy Skieresz was diagnosed with a benign tumor on her right femur earlier this season, causing her to finish second at the 1998 NCAA Cross Country Championships. That meet was most likely Skieresz's last race in an Arizona uniform.


1998 finishes: 6 team titles, 10 individual titles

Senior Amy Skieresz finished her UA career by finishing second at the NCAA Championships Nov. 23 in Lawrence, Kan.

But that finish was all the more impressive considering Skieresz hadn't run for nine days prior to the race.

After the NCAA Regional meet, Skieresz had felt a pain in her right leg which was later diagnosed as a benign tumor on her right femur. The injury forced Skieresz to train for the NCAA Championships by biking and swimming because the pain was too great to run.

"Even up to when the gun went off for the NCAAs, it was very questionable whether or not Amy would even be able to finish the race," UA head coach Dave Murray said. "Most people would have said, 'I'm in a lot of pain here, I don't need to run,' but most people aren't Amy."

Skieresz jumped out to an early lead in the race and sustained it until only 1,000 yards remained. But the hilly terrain was taking its toll on Skieresz's right leg and with each downhill stride, she was experiencing a jolting pain.

Michigan's Katie McGregor outkicked Skieresz in the home stretch to beat her by less than seven seconds. The loss was only the fourth time in her UA running career that Skieresz had not crossed the finish line first.

Modest as always after the race, Skieresz said, "It is frustrating when something like this happens at the end of the season, but I'm happy finishing second."

Murray said Skieresz's finish was just another example of how good she is.

"That race is just another example of what a tremendous athlete Amy is," he said. "She wasn't about to end her last cross county season on the sidelines." - Brian Wahlund

Brian Wahlund can be reached at Brian.Wahlund@wildcat.arizona.edu.