Neethling captures 3 titles for UA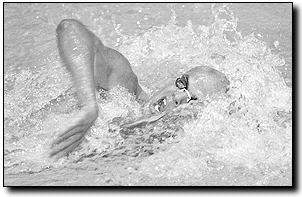 Associated Press
Arizona Daily Wildcat

Arizona's Ryk Neethling cruises through the 1,650-yard freestyle with a winning time of 14 minutes, 35.57 seconds during the NCAA Division I men's swimming and diving championships March 25-27 in Indianapolis.


1998-99 finish: men- 5th place at NCAAs; women- 4th place at NCAAs

UA junior Ryk Neethling dominated the field of freestyle swimmers for the second consecutive season, as he captured three individual NCAA Championships and was named Division I Swimmer of the Year.

Neethling proved to be the best in the land in the 200-yard freestyle (1 minute, 33.59 seconds), 500 free (4:13.8) and the 1,650 free (14:35:57), the three events in which he was also notched wins in 1998.

"I am really happy with how I did," Neethling said. "It was a big accomplishment."

Despite capturing more individual championships than any other swimmer in Arizona history and becoming the only swimmer in NCAA history to successfully defend three titles, Neethling said he is excited for the 1999-2000 season and feels there is room to improve.

"I came to Indianapolis to win three more titles and I did that," he said. "It's my seventh title overall, so that's great, but I know I can go even faster. I am excited for next year to improve myself."

Head coach Frank Busch said Neethling's presence was not only felt in the point jump, but the emotion surrounding each one of his events inspired the other swimmers to race faster than they ever have.

"It was like that the entire year," Busch said. "Having Ryk as a leader gives us a distinct advantage entering into any meet."

The UA women's team finished its season falling short of its hopes.

"It was a bit of a disappointment," junior Denali Knapp said. "Going in, we wanted to give Georgia a run for the title and we didn't."

The UA women did return with an NCAA title in the 400 free relay. The Wildcat squad of sophomore Lindsey Farella, Knapp and freshmen Emily Mastin and Sarah Tolar.

Aside from winning a national title, one of the highlights for the women's team came Jan. 21 as the then-No. 3 Wildcats upset last year's national runner-up Stanford by a margin of 182-112. In the meet at Hillenbrand Aquatic Center, the UA women finished 1-2-3 in the 1,000 freestyle, 100 breaststroke, 200 butterfly and 100 free.

Keith Carmona can be reached at Keith.Carmona@wildcat.arizona.edu.