Hornbeek leads gymnasts, despite doctors' warnings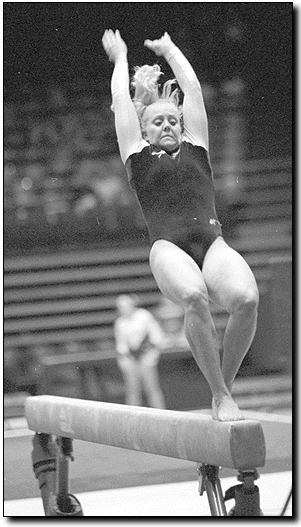 Ian C. Mayer
Arizona Daily Wildcat

Junior gymnast Heidi Hornbeek performs on the beam during a dual meet against Stanford at McKale Center earlier this season. Hornbeek was the only Wildcat to advance to the NCAA Championships, despite coming back from shoulder surgery her doctors said should have ended her career.


1999 record: 11-8-1 overall, 6-5-1 Pac-10

UA redshirt junior Heidi Hornbeek suffered an injury to her shoulder last season that left her unable to lift her arm, let alone her body above any parallel bars. Despite being told her career was over, Hornbeek underwent a surgery that only been performed once in the world, and gave her only a 50 percent chance of recovery. A year later, she peaked at the 100 percent recovery mark as she advanced all the way to the NCAA Championships.

"It was scary," Hornbeek said of the surgery. "But I already knew I couldn't do anything as it presently stood, so I took the chance and I hoped for the best.

"And the more they told me I wouldn't be able to be a gymnast, the more determined I became to prove them wrong."

UA head coach Billy Ryden recalled the frustration he felt watching one of his stars fall.

"I was watching a person who was a great gymnast not even be able to lift her arm," Ryden said. "But her opinion on the whole take was, 'I'll show you I can still do it' - and you've got to respect that."

One has to respect that Hornbeek took what was supposed to be a comeback year and turned it into a championship season.

"Her role was to just do her job," Ryden said. "There were no demands on her to lead the team. Her job was to try to be back to the old Heidi, the gymnast."

Hornbeek was "the gymnast" as she competed in Salt Lake City at the NCAAs, finishing sixth on the beam and eighth on the uneven bars. She was named to the first team All-American in both events.

"I just did the routines like I always do," Hornbeek said.

Kate Longworth can be reached at Kate.Longworth@wildcat.arizona.edu.