Residence Life searches for temporary dorm space solution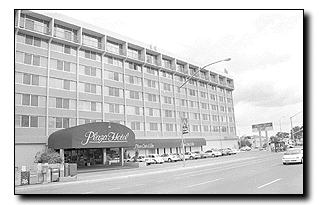 Scott Andrew Taras
Arizona Summer Wildcat

The Plaza Hotel and Conference Center at East Speedway Boulevard and North Campbell Avenue may house up to 100 UA freshmen. The UA may be forced to move students into the Plaza due to an increase in freshmen enrollment and dorm overcrowding.


Arizona Summer Wildcat

UA Residence Life officials are working to find more dorm space - possibly in a sorority house and apartment rooms - to house incoming freshmen and prevent them from having to stay in a local hotel.

"We are in the final stage of negotiations for a former sorority house and some additional apartment space," said James Van Arsdel, director of University of Arizona Residence Life.

When UA President Peter Likins decided in June against purchasing Casa Feliz Apartments, 1201 E. Drachman St., university officials were left scrambling for additional housing.

Last month, Van Arsdel said about 18 freshmen might have to temporarily live in the Plaza Hotel, 1900 E. Speedway Blvd., until spaces in residence halls open up.

"Currently, the number of freshmen who might end up in hotel rooms is not exact, because the figure changes everyday," Van Arsdel said. "We are prepared to house as many as 100 students in the Plaza. I really don't believe that we will."

UA spokeswoman Sharon Kha said officials are doing "everything in their power" to find permanent housing for the freshmen.

Van Arsdel said Residence Life gets about 60 to 80 people who do not accept their dorm assignments or cancel their reservations.

"We're hoping we get enough cancellations to put everyone in residence halls," Van Arsdel said.

Students who missed the deadline will have to find off-campus housing.

"The students who might have to live in temporary housing are those who applied on, or close to May 1, the deadline for a guaranteed dorm room," Van Arsdel said.

In addition to possibly leasing a still-unnamed sorority house and additional apartment spaces, Residence Life also acquired former office space at Babcock Inn, 1717 E. Speedway Blvd., and put three beds in double rooms at Arizona-Sonora residence hall.

Van Arsdel said Residence Life is looking for additional apartment spaces in a complex that also remains unnamed, but the deal should be finalized by the fall semester.

As for a long-term solution, the university has plans to build two more residence halls in the North Highland Avenue area and an expansion to the Pima Hall, 1340 E. First St.

"It's going to be tough. There will be a temporary time period that may be as long as three years where we're scrambling for housing," Kha said. "The problem will not be solved until we build the new residence halls."

Van Arsdel said UA officials often start the school year overbooking dorms because they know there will be a number of cancellations.

"If we open with vacancies, it drives up the costs per person," he said.

UA officials have been working all year to find additional ways to house freshmen.

In February, Van Arsdel scrapped a proposed lottery system after a barrage of student and parental criticism. The plan would have shut out 200 returning dorm residents in order to accommodate more freshmen.