New class, new millennium, brand new trophy case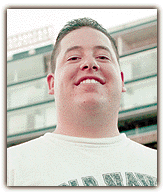 Wildcat File Photo
Arizona Summer Wildcat

Dan Rosen


Hey sports fans! Remember last year when you got accepted to the University of Arizona and you became a Wildcat? Remember the Holiday Bowl victory celebration on SportsCenter, or Ortege Jenkins somersaulting into the endzone, or Jason Terry running the floor as the general and Lute Olson looking clean, calm and collected on the sidelines?

But, do you remember when you saw Michael Wright dominate as a freshman, and then make one of the all-time blunders in the first round of the NCAA Tournament? Remember your friends giving you a good ribbing because your new school lost in the first round against Oklahoma, or your new favorite football team got crushed in the fourth quarter against an overrated UCLA team?

If you don't, we, who have been here to live through these moments as the McKale and Arizona Stadium faithful, do.

Throughout the past few years, the University of Arizona athletic department has seen its ups and downs. For example, in 1996, the football team lost 56-14 in Arizona Stadium, to Arizona State. But then, in the same school year, an NCAA championship trophy was paraded home through the streets of Tucson by Olson and his warriors.

Some moments have been good, and some have been bad, but with the new millennium hovering just over the horizon of Mount Lemmon, the Class of 2003 is going to bring it in with some style.

When I got here in the fall of 1996, it took only until late March for me to witness a school come together through a national championship, but for you it may take only until Jan. 4.

Now, I am not saying that our football team is going to win the Sugar Bowl this year and bring home the title as the nation's best. I am merely saying it can be done.

Most of you never got to see Chris McAlister in his Wildcat uniform, but you get to witness the culmination of some fantastic collegiate careers by Trung Canidate, Keith Smith, Marcus Bell, DaShon Polk and Dennis Northcutt.

This could be the year for Dick Tomey to finally cast aside his critics, so don't miss a down.

Some of you may be waiting in anticipation for this year's version of UA men's basketball, and for that you have just received your first A in college.

With guys like the Pacific 10 Conference's 1999 Freshman of the Year Michael Wright, and his classmates Richard Jefferson, Ruben Douglas and Ricky Anderson all back on the hardwood this season along with your fellow freshmen Jason Gardner and Gilbert Arenas, junior transfers Loren Woods and Lamont Frazier, sophomore Luke Walton and of course the player/coach Josh Pastner, look out.

The last time Olson had a freshman point guard, they won the whole thing and he went on to make millions with the Vancouver Grizzlies.

Now again, I am not saying the men's basketball team will win the national championship at the Final Four - which just happens to be taking place in Indianapolis, the same place as the 1997 Final Four took place - I am again merely saying it can be done.

Obviously those are the two sports everyone pays attention to, but let's give credit where it is due. Our softball team is one of the best dynasties in the 90s and they have all the power and ability to continue into the new millennium. Women's basketball and volleyball are growing faster than ever, baseball has every starter back except for catcher and the swimming teams might not be beaten all year with greats like Ryk Neethling, Trina Jackson and some freshmen Olympic gold medalists.

Welcome to college, sports fans, and hold on for the ride of your life.