Wildcat Welcome Mat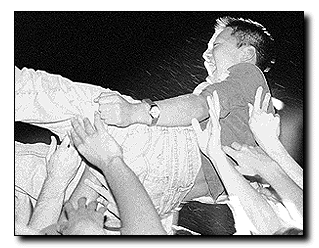 Wildcat File Photo
Arizona Summer Wildcat
Arizona Summer Wildcat File Photo A fan at the 1997 CatFest crowd surfs to the beat of the Refreshments on the UA Mall. Students will be treated to an expanded Wildcat Welcome this year, beginning August 18 and culminating with Catfest, on August 27.
New and returning students alike will be treated to an expanded Wildcat Welcome this year, beginning August 18 and culminating with CatFest, on August 27.
"There will be something going on every night," said Mindy Griffith, coordinator of campus activities and Wildcat Welcome co-chair. "This is for all students, although there is more of a focus on new students."
Opening the festivities will be a volleyball game at Park Student Union, 615 N. Park Ave., with the band Tricky Luz on Wednesday, Aug. 18.
"With a full two weeks of activities planned throughout campus, this year's Wildcat Welcome schedule is much more extensive than last year's," Griffith said.
University organizations including Student Programs, the Associated Students, Campus Recreation, University Activities Board, Residence Life, Residence Hall Association and Multicultural Programs and Services, are helping to plan the Wildcat Welcome.
The highlight of the program, CatFest, will begin at 6 p.m. on the UA Mall on Friday, Aug. 27. The festival will be composed of four or five local bands, instead of the traditional scheduling of a big national band.
Last year, alternative group Blink 182 was scheduled to perform, but the show was rained out. Two years ago, a Phoenix-area band, The Refreshments, entertained on the Mall.
Griffith said the decision to have local bands was primarily a financial decision, although the festival atmosphere will add more diversity.
ASUA club advocate Sarah Becker said the CatFest committee is contacting the University of Arizona Steel Drum Band - among other musical acts - although nothing is set in stone.
"The bands we are trying to get will appeal to the whole community," Becker said.
Griffith said the basic structure of CatFest will allow each band about 40 minutes on stage, with KAMP Student Radio providing music during breaks.
"We're trying for a little diversity," Griffith said.
Juliet Moore, director of Campus Recreation and co-chair of the Wildcat Welcome, said all students are encouraged to attend at least one event.
"This really provides an opportunity to meet more students and develop good interaction," Moore said. "It makes the campus feel like it is home."
Following the opening night volleyball game will be a presentation of the movie "The Little Mermaid" at the Student Recreation Center pool, beginning at 7:30 p.m. on Thursday, Aug. 19.
Block parties sponsored by the Residence Hall Association highlight the following Saturday's activities for new students, while the freshman convocation Sunday night is the official and formal introduction of the UA class of 2003. UA President Peter Likins and the deans of each college will give presentations.
As classes start on Monday, Aug. 23, the UA Mall will be bustling with activity throughout the day. That night at 6, information about 35 club sports will be available at the Recreation Center.
School-spirit-building activities are planned throughout the first week of classes.
Wednesday is "Sea of Red" day, when everyone on campus is encouraged to wear UA red. Arizona Stadium houses "Meet the Teams" at 7 p.m.
Thursday is the Park and Memorial Student Unions' open house, from 2 to 6 p.m., and free billiards from 7 to 9 p.m., at Sam's Place in the Memorial Student Union.
The Student Organization Fair takes place on the UA Mall on Friday from 10 a.m. to 2 p.m., where information on student organizations throughout campus will be available.
"We want to make the new students welcome," Griffith said.