UA-area arts institutions prepare for '99 season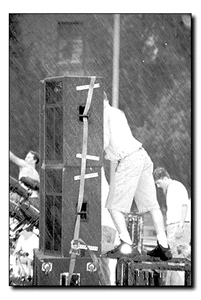 Wildcat File Photo
Arizona Summer Wildcat
We don't need to tell you there's more to life than school.
As incoming freshmen, whether you're new to the Tucson area or not, you're probably wondering what kinds of things there are to do on campus that are fun, interesting and in some way, educational.
You may have heard about the sudden demise of Gallagher Theatre, the University of Arizona's on-campus movie house. Fortunately, there are still many concerts, performances, art exhibitions and other events happening throughout every semester within walking distance from every dorm.
Museums
For those seeking out fine arts, the UA boasts several galleries. In addition to the University of Arizona Museum of Art, there are a few galleries located in the Memorial Student Union which showcase mostly local and regional artists, with occasional student and faculty exhibitions.
The Fine Arts complex, which houses UAMA and the University's photography museum, The Center for Creative Photography, also has two small galleries adjacent to the art museum - the Joseph Gross Gallery and the Lionel Rombach Gallery. You may want to familiarize yourself with these galleries because UAMA will be closed for lighting renovations until October 3. After that, an exhibit of work by art faculty members will be on display.
The Center for Creative Photography is arguably the university's most renowned museum. CCP is one of the few museums of its kind in the state, and its photography collection is one of the best. Currently on display at the CCP is Vik Muniz: Seeing is Believing, an intriguing show which combines painting with photography to show you that things aren't always what they seem. This exhibit runs through Sept. 26.
If you're not into art but still like museums, then stop by the Mineralogical Museum, located in the basement of the Flandrau Science Center and Planetarium. The UA also features the History of Pharmacy Museum, located in the Pharmacy building, the Arizona State Museum, found at East University Boulevard near Main Gate or the Arizona Historical Society, which sits at East Second Street, west of Main Gate.
Concerts
If looking at things hanging on walls encased in glass isn't your idea of fun, never fear - there are still a few more paragraphs in this story that have been written just for you.
The University Activities Board sponsors many on-campus concerts each semester. The Eat to the Beat series brings up-and-coming bands right to you every week between noon and 1 p.m. in the Memorial Student Union Cellar. UAB also holds frequent concerts by more well-known bands.
As far as classical music and dance performance goes, the UA School of Music and Dance can give you a healthy dose. With everything from student recitals to faculty performances to guest concerts, there's something for everyone. The Dance Division also has several performances throughout the school year.
Theater
Does the thespian in you cry out for nourishment? Then the UA is the place to be. The Arizona Repertory Theater always offers a good show. This year, they will tackle Arthur Miller's The Crucible, Kiss Me Kate, and Shakespeare's Twelfth Night, among others. Student discounts are available.
Two comedy troupes also call the UA home.
If you love a good laugh with your sandwich, then catch Comedy Corner in the Memorial Student Union Cellar on Fridays from noon to 1 p.m. For the more nocturnal set, the Charles Darwin Experience does their thing Thursday nights at 10 p.m., also in the Cellar. Both of these shows are free.
Last but not least - the classy side. UApresents, the university's performance series housed in Centennial Hall, opens their 1999-2000 season with Bobby McFerrin. From there on, it only gets better. Some highlights include: Bring in 'Da Noise, Bring in 'Da Funk, the Carnegie Hall Jazz Band, Itzhak Perlman and Riverdance. Students can usually get half-price tickets at most shows.