Swimming, diving teams return intact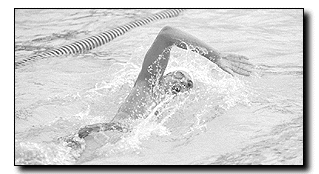 Wildcat File Photo
Arizona Summer Wildcat
UA senior Ryk Neethling swims during one of his freestyle distance events. Neethling has won three NCAA titles two years in a row and looks to become the first swimmer to ever accomplish the feat three years straight.
Last season's NCAA Division I Swimmer of the Year, UA senior Ryk Neethling, returns to defend his three national championships for the third year in a row as the swimming team readies itself for a title run.
"Our goal going into (this) season, has got to be the NCAA title," said sophomore Roland Schoeman. "We have the talent to do it."
The men's program begins with Neethling, who set records last season by not only winning three national championships - in the 200-yard, 500 and 1,650 freestyle - but became only the eighth man in NCAA history to do it two years in a row. Now he begins the search for a third straight season.
"Ryk's performance (at the NCAA Championships) was phenomenal," said UA head coach Frank Busch. "Whenever he is swimming, all eyes are on him because he is simply amazing."
The women's side has several phenomenal athletes, all ready to make a big splash this season.
Senior Trina Jackson is expected to lead the way, along with sophomores Sarah Tolar and Erin Vogt.
"We really expect Sarah and Erin to step it up next year," said assistant coach Jeanne Gibbons. "They did all right at the NCAAs last year, but now they know what college swimming is all about."
Joining the women's team this year are two Olympic gold medalists, Beth Botsford and Amanda Beard. Both won their medals in Atlanta at the age of 15 in 1996.