Looking for an Encore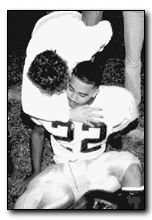 Arizona Summer Wildcat
Incomming UA freshman Bobby Wade recieves some congratulations from his mother after a game last season at Desert Vista (Phoenix) High School. Wade is one of the players who make up one of the UA football team's best recruiting classes ever.
The Arizona football team had one of its best recruiting classes in years this season. The results will appear on the field this fall.
In terms of in-state players, no one is coming in with a better football résumé than running back, Bobby Wade of Desert Vista (Phoenix) High School.
Wade rushed for 1,192 yards and 23 touchdowns while pulling in 473 receiving yards and scoring an additional 10 touchdowns en route to leading his school to the Arizona 5A state championship.
"I like to say that," Wade said in regards to his experience with a winning program coming in handy when he starts Pacific-10 Conference play this fall. "I feel prepared to go onto a successful team, that's what I expect."
Though he was mostly a tailback in high school, Wade comes to UA willing to take on just about any position.
"Personally I'm open to anything," he said. "Basically if I play this year and don't redshirt, I'll play anywhere."
Wade said he feels that if nothing else, he can learn a lot from UA senior running back Trung Canidate.
"Trung's a great tailback," Wade said. "I can sit behind him and learn a lot. I'll be willing to play though, if I get the chance."
Wade's high school friend and new UA teammate Andrae Thurman of Westview (Avondale, Ariz.) High School, said Wade is one of the most skilled players he knows.
"He's a versatile player, he can play four or five positions," Thurman said.
UA head coach Dick Tomey, said that he won't know what position Wade will fill on this year's Wildcat squad until after freshman orientation, Aug. 2-5 and Camp Cochise, Aug. 7-17,.
"I don't know right now," Tomey said. "I don't think you can say that until we get him down here. He's a good player and we can't wait to get him on the field. But to predict ahead of a new player showing up where he's going to play you just can't do that."
Thurman said he could see Wade stepping into the UA secondary, which was hurt by the loss of senior All-American, Chris McAlister.
"They could maybe put him on defense, let him play cornerback," Thurman said. "He's talented enough that he could play anywhere."
Wade said he'll leave it up to the coaches as to where he plays in 1999, but he sees himself inheriting Canidate's role down the line.
"I prefer offense, but like I said I just want to help the team," Wade said. "My ideal position is definitely offense, then to go further, it's tailback. They recruited me to play tailback, but I've been training to play every position."
Tomey agreed with Wade in that he was recruited as a tailback, but that Wade should expect to be looked at in multiple roles.
"We look at all the freshmen both ways at orientation and Cochise," Tomey said.
Despite the prospect of not playing this year or seeing action in a limited role, Wade said his decision to attend UA was an easy one to make.
"The main reason I chose U of A was because the whole atmosphere about the campus, the people, the athletics, all of it was just so good," he said. "Comparing it to other colleges, especially the football program, they just didn't compare.
"The coaching staff was unbelievable, they and the players all have the same thing on their mind, they want to win a national championship."
Off the field, Wade said he plans to major in Business. His father, Bob Wade Sr., is an insurance agent with his own business.
Beyond that, Wade said one moment this fall which he is especially looking forward to, is Arizona's season-ending showdown with Arizona State, Nov. 27, in Tempe.
"I can't wait for that, especially if I'm able to play this season," he said. "That's something I'm looking forward to. I can't stand ASU already, not at all. A lot of people up here have been asking me why I didn't go to ASU and giving me a hard time."
Thoughts of a post-college career have crept into Wade's mind, but he's not focusing on them right now.
"Yeah, if I'm good enough." Wade said he'd like to play in the NFL.
"I feel I will be, if I stay the way I am, work hard, and stay mentally strong, I can do it," he said. "I'm looking forward to playing in the league four years from now. But I definitely want to graduate, too."