Don't bury your head in the hole!
Stephanie Cairns
Arizona Daily Wildcat
September 16, 1998


Send comments to:


Wildcat File Photo
Arizona Daily Wildcat

Stephanie Cairns


The freshman class.

More than 5,000 poor souls who have thus far survived the first few weeks of university life. They've suffered through seemingly endless jabs, jokes and unwanted snatches of advice from all-too-knowing upperclassmen and Daily Wildcat columnists. They've cowered under numerous stares of disbelief coupled with "You're kidding, you were born in the '80s?"

So, newbies, are you ready for more?

OK, OK, we'll give you a break this time. Let's focus on a more all-encompassing topic. Let's focus on something huge, something Mall-swallowing. That's right, your one-stop spot for more construction than you'll ever want or need at the University of Arizona. The site of the not-so-soon to be Integrated Learning Center.

But don't worry. All of that glorious construction is here to stay - at least until 2001, projected finish date. If all goes as scheduled, that is.

Every time you pass by our Mall's newly acquired hole in the ground, you may be wondering what and why. Here are a few answers:

The Integrated Learning Center, which will be located in the exact center of the U of A Mall, will be a central place for first-year student resources. While freshmen resources are currently scattered across campus, the Integrated Learning Center will provide the same variety of resources - including a computer commons and new classrooms - all in one place.

Will a building really be the end of the confusion and alienation of overwhelmed newcomers to the U of A? Do we need to provide a newfangled, expensive new underground extravaganza in order to make our freshmen feel at home?

I don't believe so. The experiences that made me feel at home were long talks that extended deep into early morning hours with fellow bewildered freshmen and discussions with professors eager to listen and human enough to understand.

Neither of these experiences required the facilities of a centralized first-year center.

Yet apparently, someone out there thinks we need to close off sidewalks and live with a big hole in the Mall for a few years in order to facilitate these type of connections.

Of course the Integrated Learning Center will be a convenient, centralized compilation of many resources that help first-year students achieve university success. A place of belonging will indeed be a comfort to incoming students.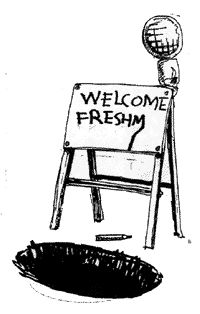 But the resources that the Integrated Learning Center will so conveniently present on a single platter already exist. They just take a bit more time to locate and recognize at this time. So current freshmen, do not fear, help already lies within your reach. Read on.
For freshmen who live on campus, many resources are offered in the same building that they sleep in.
"The entire emphasis is on focusing on freshmen and the freshman year experience," Greg Ziebell, assistant director of the Residence Life Department, said of the residence hall experience. Residence Life tries to foster a community in which freshmen "feel a sense of connection and feel involved," he said.
Talk to your local Resident Assistant for details.
The University Learning Center, located in Old Main, offers an array of freshmen resources, from their "Making the Grade" workshop series to free tutoring four nights a week at various locations around campus.
Are your professors seeming less like people and more like distant aliens in their own galaxy? Look into Faculty Fellows, a 14-year-old program through the Dean of Students that fosters connections between students and faculty. A group of faculty hold individual office hours in most residence halls, Greek houses and cultural centers on campus.
"We want to create a context where conversations take place," explained George Davis, program coordinator. "We want students to know the faculty are real people and have lives."
Davis added that the Faculty Fellows program aims to create for students a "greater love of learning, smoother paths towards graduation, greater academic success and transition from high school to university life."
The program also sponsors the Speaker Series program, which brings faculty, students, and administrators together at Gallagher Theatre for a half-hour brown bag talk and discussion every Wednesday at noon.
So freshmen, don't despair, you will not fall through the cracks of the U of A without an Integrated Learning Center. Just as current upperclassmen have survived, so will you.
I'm sure the Integrated Learning Center will be an asset to the University of Arizona. I'm sure many first-year students for years to come will benefit from its resources.
As for current U of A students, we'll just have to try and ignore the yellow machinery, mounds of dirt, and menacing holes in the Mall for a while. That's life at a university.
Stephanie Cairns is a education and international studies senior. Her column, Refractive View, appears on alternate Tuesdays and can be reached via e-mail at Stephanie.Cairns@wildcat.arizona.edu