Opportunities abound for minority student aid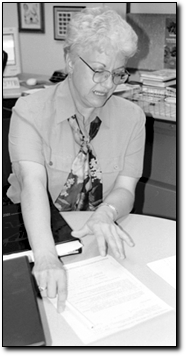 Leigh-Anne Brown
Arizona Daily Wildcat

Executive Director of Student Financial Aid, Phyllis Bolt-Bannister points out statistics on minority scholarships from the university's records. Last year, 88 percent of UA's minorities received aid through the Office of Student Financial Aid.


Although almost 90 percent of UA minority students receive some sort of financial aid, less than 1 percent of the UA's aid money is actually targeted for those groups, a UA official said Monday.

Despite that statistic, Phyllis Bolt-Bannister, executive financial aid director, said that most University of Arizona aid awards do not factor in race. However, 6,789 out of 7,664 minority students received aid of some form as of May 1997.

"It is our responsibility to make sure those who need help receive help," Bolt-Bannister said.

Sociology professor William Bunis said he believes the implication of providing minorities services is that society becomes integrated with a full range of talents.

"We need to bring all groups of people into society as participants," Bunis said.

Despite the lack of targeted aid, UA scholarship director Magdalen Vargas said the UA does sport merit-based aid for which many minority students may qualify.

The Helen Dyar King Scholarship, for example, is one of the UA's most unusual awards, Vargas said.

Applicants for the $3,000 scholarship must be descendants of active or retired military or law enforcement officers. They must also be Arizona residents, have a 3.0 cumulative grade-point average, a financial need and demonstrate community service. Applications are due Sept. 28.

The UA offers aid through scholarships, waivers, grants, loans and campus employment to all students, Bolt-Bannister said.

The Centennial Achievement Award, on the other hand, places "strong preference" on minority students who are the first in their families to graduate from a university. Applications are due Friday and the award will be given to one male and one female at December commencement.

History senior Marc Johnson said he thinks it is all right if money is given to students based partly on their race.

"As long as there is an economic difference it is fine," Johnson said. "But if it is based on the same economic background they shouldn't give any preference."

To qualify for this aid, though, students must make sure their federal filings (like FAFSA) are up-to-date.

Vargas added that students also can be invited to apply for scholarships through her office if they fit certain criteria.

Campus aid comes from federal, state, the UA and private agencies, she said.

Rachael Myer can be reached via e-mail at Rachael.Myer@wildcat.arizona.edu.