CatCard misuse spotted, stopped by new system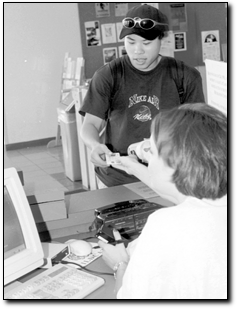 Ian Mayer
Arizona Daily Wildcat

Journalism senior, Josh Fang (background), gets his CatCard swiped by Student Recreation Center employee Lisa Geisler yesterday at the rec center. The center is cracking down on borrowed CatCard use by instituting a new entry system.


During previous semesters, anyone could enter the UA Student Recreation Center using a borrowed CatCard, but a new entry system now screams out, "No more!"

UA Director of Campus Recreation Juliette Moore said students must show their card to a center employee who swipes the card and confirms the picture, a process she said is expected to minimize non-student use of the facilities.

"People have been doing it for a long time - trying to get a buddy in and not pay the five bucks - but now they are getting noticed," Moore said. "I think we will see that less and less."

The old system did not have a consistent set of checks and balances to determine that the picture on the card matched the potential patron.

The university changed the process at the end of summer session and has been operating with it since the first week of the semester, Moore said.

Eleven people have been caught using someone else's CatCard to gain entry to the recreation center since the beginning of the semester, she said.

That number is relatively high, since rec center employees confiscate an average of 50 cards in an entire semester. But Moore said it was only high because of the increased scrutiny level.

"We caught quite a few the first week, and people are now understanding it is a serious matter," Moore said.

When a center employee catches a non-UA student trying to enter for free using a CatCard, the employee takes the card and forwards it to the dean of students office.

Veda Hunn, UA assistant dean of students, said she then contacts the student whose card she receives.

"I inform the student I am in possession of the card, that they must pick it up and that their card is non-transferable," Hunn said.

Hunn said the school would impose more severe sanctions against a repeat offender, but it would depend on the circumstances. She did not know of any repeat offenders.

Lisa Geisler, a UA sophomore and recreation center employee, said the new system was effective, but she has received several complaints about it from student patrons.

"They have to hand the card to us, so it is more difficult to get away with anything," Geisler said. "I have heard a couple people complain because they are used to the other way, or because lines tend to be longer when it is busy."

Moore said the new scanning system will be implemented at Bear Down Gym within a week and will eventually be used at intramural sporting events.

Anthony C. Braza can be reached via e-mail at Anthony.C.Braza@wildcat.arizona.edu.