UA biology department lands $2.2 million grant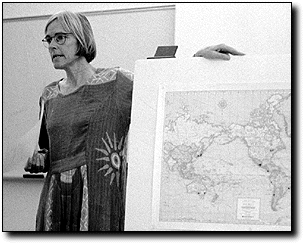 Jennifer Holmes
Arizona Daily Wildcat

Molecular and Cellular Biology Program Director, Carol Bender, shows a map of places students have done research on an exchange program.


The University of Arizona biology department received a $2.2 million boost that will allow it to maintain its undergraduate research program, department officials said yesterday.

The grant, awarded by the Howard Hughes Medical Institute, will be paid over the next four years.

Carol Bender, director of the UA Undergraduate Biology Research Program, said the money will enable the department to continue supporting 140 student researchers.

"Without it, the program would survive, but at a much reduced level," Bender said. "Now we are assured the labs they are using are doing state-of-the-art work."

The research program allows under-graduate biology students to work on their own projects and be paid $5.75-$6.30 an hour. Half of the hourly wage is paid with Hughes grant money and half is paid with a sponsoring faculty member's grant funds.

The UA, one of 58 recipients of $91.1 million in grant money from the Hughes Institute, received the largest portion. Arizona State University and Northern Arizona University also received money.

Samuel Ward, head of UA's cellular and molecular biology department, said half the grant money will be used to support undergraduate research, which he said is an integral part of the curriculum.

"This is what a research facility can offer undergrads that other colleges cannot offer - the opportunity to work in research labs in all disciplines," Ward said.

He said the remaining money will be used to support the Biology Learning Center, outreach programs for Tucson elementary and high schools, Biology Career Day and various other programs for biology students.

This is the third time the department has received a grant from the Hughes Institute. Bender said the UA received the most grant money this time because of its reputation.

"They are pretty excited about how we are set up," she said. "There is a great deal of faculty and institutional support."

Tim Metzger, a molecular and cellular biology senior who works as a student researcher, said the grant money was important to the research program.

"It pays half of our salary, and for most people that is a big deal," Metzger said.

Sheri Delp, a biochemistry junior who also is a student researcher, agreed with Metzger.

"This grant money has allowed more students to participate in the program," Delp said. "It is a good opportunity, and the reason why I came here."

Anthony C. Braza can be reached via e-mail at Anthony.C.Braza@wildcat.arizona.edu.