Construction should not hinder tailgating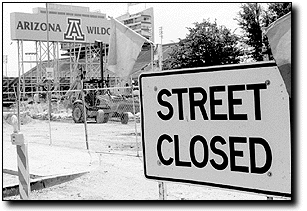 Wildcat File Photo
Arizona Daily Wildcat

JENNIFER ETSITTY/Arizona Daily Wildcat Because of construction near the UA Mall, North Cherry Avenue and East Fourth Street will be closed to traffic Saturday during the UA's football game against Iowa, but there will be an area for pedestrians. The shutdown will eliminate 10 percent of the tailgating areas normally available during football games.


According to university officials, construction on the UA Mall should not effect Saturday's tailgating for the Iowa football game.

"The construction hasn't really caused any major difficulties for us," said Heather Morris, Assistant Director of Marketing and Promotions. "At worst, we've lost about 10 percent of our tailgating spots."

Tailgating is not only an important tradition in UA athletics, but it also brings in additional revenue. The athletic department offers three tailgating packages ranging from $10 per person to a flat $200 fee. There is also a first-come, first-serve package that can be purchased on the day of the game for either $45 or $60 as long as spots remain.

"Our department has done a great job of getting ready and I think the tailgating experience will be just as exciting and enjoyable for our fans as it has been in recent years," UA athletic director Jim Livengood said. "We have to realize that construction is becoming a part of every progressive college campus. And the benefits we will gain from these two buildings will outweigh any minor problems we have in tailgating."

Construction on the Integrated Learning Center and the underground athletic center will be ongoing for the entire football season. And while the 10 percent loss should be negligible for the Iowa game, it may cause problems for the upcoming UCLA and Arizona State games.

"We realize that we may run into trouble for some of the big home games and have reached an agreement to use the Bear Down Field for games like ASU," Morris said. "There will be no parking on this field, but there will be tents and picnic areas. We hope that this will help offset our losses from the construction."

Saturday's biggest concern could involve fans hoping to purchase a first-come, first-serve parking permit on the McKale Lawn. The construction has caused a virtual shutdown of Cherry Avenue, making Campbell the only entrance to the McKale Center area.

"University traffic is always a concern for us for the first football game, but the Cherry Street construction shouldn't cause too much of a problem for most fans," university police Chief Harry Hueston II said. "We advise that most people park north of Speedway or south of Sixth Street. For the people that are parking in the UA Mall area, our best advice is to come early."

While the Cherry and Fourth Street area will be closed to vehicles, the university police have worked with the construction company to ensure a larger area for walking pedestrians. Morris also said there will be four guest relations tents outside the stadium to help advise people in both parking and traffic concerns.

"We have sent out maps and letters of advice to everyone that has already purchased a spot in any of our tailgating areas," Morris said. "We will also be passing out maps on campus and will have many parking and transportation officials near the UA Mall.

"There are still some things that will probably come up because it is the first game, but overall, we are excited about the game and don't anticipate any problems that will effect tailgating."

Arlie Rahn can be reached via e-mail at Arlie.Rahn@wildcat.arizona.edu.