You know Amy Skieresz, now meet Tara Chaplin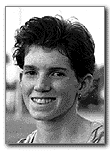 Katherine K. Gardiner
Arizona Daily Wildcat

UA freshman Tara Chaplin finished 8 seconds behind 1996 NCAA champion, senior Amy Skieresz in her 5,000-meter run at the Irvine Cross Country Invitational. The Wildcats will compete this weekend at the Aztec Invitational in San Diego.


It was hardly the typical rookie finish when freshman runner Tara Chaplin crossed the finish line at the Irvine Cross Country Invitational last weekend.

The 17-year old, 4-foot-11, 80-pound freshman finished her 5,000-meter run in 17 minutes, 22 seconds - only 8 seconds behind senior Amy Skieresz, the 1996 NCAA champion.

"This was a good start for Tara. She will be great a runner and asset to the UA running program," head coach Dave Murray said. "Tara is the best distance runner we recruited at the UA since Amy, and she's proven it with her times."

Chaplin was recruited to the UA on scholarship for track and field from Montpelier, Vt.

"I chose the UA because I wanted to go to a completely new place, I wanted warm winters, I liked Coach Murray and I received a scholarship here," Chaplin said.

Chaplin, who was coached by her father in high school, was ranked second in the nation for the two-mile run and was among the top 32 runners at the high school Foot Locker Cross Country Nationals, finishing ninth.

"It definitely helped having my dad as my coach. I had someone to run with everyday," she said.

Murray said that it was training with her father that boosted Chaplin's endurance.

"Her endurance is her best attribute. She ran more miles than 99.9 percent of any high schooler," he said.

Murray went on to say that this was the closest anyone has finished to Skieresz since the senior was beat at the NCAA Championships last year.

"She may be able to replace Amy next year," Murray said of Chaplin. "It's very rare to have someone who can do this, and it will definitely be a nice replacement. She has the talent."

Chaplin said she was very excited about her finish and never expected to finish so close to Skieresz.

Skieresz didn't seem as surprised.

"Tara is an exceptional runner. She definitely has a lot of talent and we try to work together and help each other out," Skieresz said. "We both have something when it comes to running, I can't put my finger on it, but it's just what we love to do."

Chaplin devotes this love for running to helping her achieve her goals.

"I plan on being here for five years, so I won't have too much to handle between school and running," she said. "And as for this year, I think that the team can make it to nationals. That is my goal because it will be a lot of fun and our team can do it."

Kate Longworth can be reached via e-mail at Kate.Longworth@wildcat.arizona.edu.