Climb every mountain
Kate Goff
Arizona Daily Wildcat
September 21, 1998


Send comments to: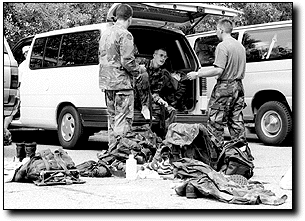 Tanith L. Balaban
Arizona Daily Wildcat

ROTC cadets (from left) history junior Tom Pike, engineering senior David Gray and political science junior Dave Minaschek put on their fatigues, talk and rest from their early Saturday morning hike on Mount Wrightson. The ROTC cadets ventured up the mountain to build unity and to begin preparing them for Advanced Camp, which evaluates cadets on leadership and physical abilities.


A pack of Army ROTC cadets on Saturday reached Mount Wrightson just moments after the Arizona sun.

Under a cloudless blue sky, the team of 23 moved together through the Santa Rita Mountains in the Coronado National Forest.

After hours of tramping over the hillside, the first cadet down the mountain was Chris Jones, a sociology senior.

"It wasn't that bad," Jones said. "It was fun."

The purpose of the hike was to build unity and prepare the cadets for next summer's annual Advanced Camp, said Capt. Rudy Thebaud, a Reserve Officers' Training Camp instructor at the University of Arizona. ROTC cadets receive money for college in exchange for a commitment to military service.

Officers at the camp, in Fort Lewis, Wash., evaluate cadets on their leadership abilities and physical fitness, he said. All cadets must attend the camp following their junior year.

Because the UA competes with other universities at the camp, the cadets' performances reflect directly on the university, Thebaud said. Last year the UA ranked above both the national and regional averages, he said, and traditionally performs well.

To help students succeed at the camp, the biggest challenge faced by ROTC students, each junior cadet is paired with a senior, who helps the partner prepare for the event.

Despite the casual nature of the hike, members of the ROTC Ranger Challenge Team were also honing in skills for a 10K road march and land navigation and rifle marksmanship contests.

The team competes against other schools in the 3rd Brigade, which includes ROTC units in Arizona, California and Utah.

Lt. Col. Mark Jones, head of UA's ROTC, said he hoped that the climb "would help them bond, and get to know each other."

Following the hike, cadets dressed in full uniform for tactical training classes at the bottom of the mountain.

Cadet William Frobe, a political science senior, said the students were placed in formation and taught moving techniques. He said the cadets were shown how to react to ambushes and snipers.

Thebaud said he is optimistic that the cadets will succeed at the camp.

"They're a really good group of kids," he said. "They'll do well."

Kate Goff can be reached via e-mail at Kate.Goff@wildcat.arizona.edu.