Solar machines exhibited at TIA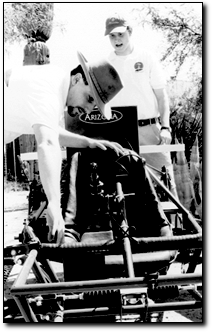 Wildcat File Photo
Arizona Daily Wildcat

Mechanical engineers, junior Nic Williams and senior Colin O'Connor from the UA's Daedalus Solar Car Team, display "The Mule," a prototype vehicle for Saturday's third-annual Solar and Renewable Resources Adventure. The UA solar car team will be competing in the Sunrayce in June 1999.


Innovators at the third-annual Solar and Renewable Resource Adventure have been working hard to find new ways to utilize the energy source.

Saturday's exhibition hosted about 30 booths at the UA's Environmental Research Laboratory grounds at Tucson International Airport.

"We have a wonderful environment in Arizona, and a whole bunch of solar energy and other resources we need to use efficiently," said lab director Martin Yoklic, who organized the event.

The Tucson Institute for Sustainable Communities, which co-hosted the event, sponsors local organizations that advocate using renewable natural resources like the sun to make energy cheaper and more efficient, institute director John Miller said.

Exhibits ranged from solar ovens to a solar powered music synthesizer. Other booths had information about energy-efficient materials like adobe, rammed earth and straw bale.

Robyn Thwaits, a UA alumna and NOVA Financial and Investment Corp. employee, said alternative building materials are the future of home construction.

"It is a valuable thing for the future," Thwaits said.

UA alumnus Raymond Desmond founded NOVA in 1980 to provide mortgages for environmentally friendly residences.

"We finance alternative homes," Desmond said. "Not many lenders do that. The market is not big yet."

He said many lending institutions do not finance alternative homes because they are hard to resell.

"I started doing it mainly because I've lived here (in Tucson) and this is what should be happening," Desmond said.

The Daedalus Solar Car Team, made up of UA students, displayed a prototype vehicle they jokingly named "The Mule."

Daedalus promoted benefits of solar power and the team's upcoming appearance at Sunrayce '99, a national solar car race.

Colin O'Connor, a mechanical engineering senior, said the group's race car, expected to be completed in January, will have a top speed of 75 mph.

Mechanical engineering junior Nic Williams, the team's driver, said the 10-day jaunt from Wash-ington, D.C., to Orlando, Fla., is in June.

"I really don't want to drive," Williams said, noting he will have to pilot the car during the summer without air conditioning.

Williams said the University of Arizona had a good shot at winning the race.

"So long as we don't mess up it'll be one the most agile things out there," he said.

Other UA students were on hand as part of an assignment for their solar utilization class.

Michael Lafleur can be reached via e-mail at Michael.Lafleur@wildcat.arizona.edu.