UA rolls over Hawkeyes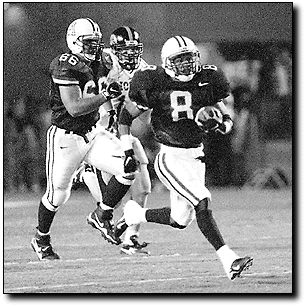 Nicholas Valenzuela
Arizona Daily Wildcat

UA junior wide receiver Dennis Northcutt (8) runs up the open field as Steven Grace (66) watches for defenders from behind, Saturday night at Wildcat Stadium. Northcutt, who had 5 receptions on the night for 157 yards and a touchdown, helped lead the Wildcats over Iowa, 35-11.


Going into Saturday's game against Iowa, the UA football team had heard a lot about the Hawkeyes' vaunted defensive line.

After the game, though, it was Arizona's offensive line that was earning the compliments.

"All the media (attention) and hype were going to (Jared) DeVries," UA offensive lineman Yusuf Scott said in regard to the Iowa All-American defensive lineman. "We had something to prove out there and we did. We were much more prepared than they were. We showed them something tonight."

Scott and his teammates held DeVries in check as the Wildcats used a number of big plays to whip the Hawkeyes 35-11 in front of 52,634 fans at Arizona Stadium.

No. 16 Arizona (3-0) is off to its best start since 1994, when the Wildcats opened 4-0.

"I appreciate the crowd so much," head coach Dick Tomey said. "It was just a wonderful college football atmosphere tonight."

Tomey spent much of the week warning his players of how tough the Hawkeyes were on defense, but after the game he gave much of the credit to his team for holding its own against the physical Iowa players.

"Last night was one of the toughest physical games we've ever played," he said during a press conference yesterday. "Iowa was bent our getting their season turned around."

It didn't happen that way for the Hawkeyes, though the Wildcats again had a slow start that almost hurt them.

Arizona opened with three straight passes from junior quarterback Keith Smith and moved 52 yards, seemingly intent on scoring early and putting Iowa away.

But the Hawkeyes' Raj Clark intercepted Smith's fourth pass attempt on the 15-yard-line, catching the ball when it was deflected off Wildcat tight end Mike Lucky. The same incident happened at Stanford the week before, killing Arizona's opening drive there as well.

A series of penalties and a sack of Iowa redshirt freshman quarterback Kyle McCann by UA senior defensive tackle Daniel Greer nullified the Hawkeyes' first drive.

Arizona came back with a 56-yard pass from Smith to junior wide receiver Dennis Northcutt that put UA on the 10 yard line, setting up junior running back Trung Canidate's one-yard touchdown dive to put Arizona up 7-0.

"I just think we executed well," Smith said. "Everyone really knew their assignments tonight."

Iowa came back and managed to get a field goal to cut the lead to 7-3, but that would be as close as the Hawkeyes got.

A touchdown pass from McCann to wide receiver Bashir Yamini was called back because of holding, and Arizona got the ball back and drove down the field yet again.

Canidate, who had 69 yards on 12 carries, broke loose for a 38-yard touchdown run to cap the scoring in the first half.

Still, other than that burst, the UA running game struggled against Iowa's line.

"They were second in the Big 10 last year against the run, so we knew they'd be tough," Tomey said. "But you just have to be persistent. You can't give up. We're well aware of the fact our running game makes our passing game better."

In terms of passing, Smith and sophomore Ortege Jenkins again split the game evenly, with Jenkins playing the second and third quarters and Smith starting and coming back for the fourth.

Jenkins was 4 of 10 for 118 yards while Smith was 7 of 8 for 167 yards and a second half touchdown pass to Northcutt, who led all receivers on the day with 157 yards on five catches.

"The holes that the line was giving me were great," Smith said. "I only hit the ground once the whole game, and that's what you want out of an offensive line."

Jenkins also credited the offensive line for the offense's success.

"I think a lot of people doubted our line," he said. "But I have always had confidence in our offensive line and tonight they proved it."

Tomey said he was pleased as well.

"They continue to do a good job. They're a young line and they're battling all the time. They're getting better every time out," he said.

The Arizona defense also had an outstanding game, sacking McCann four times and intercepting him twice. Overall, the Hawkeyes only had 28 yards rushing on 27 carries.

"The defense was fabulous," Tomey said. "We don't have a great pass rush but we're getting better."

The shining moment for the defense came on a goal-line stand in the third quarter. The line stopped two short runs then forced McCann to throw an incomplete pass. On fourth-and-goal the Hawkeyes decided to go for it, only to have McCann flushed from the pocket. Junior linebacker Marcus Bell then came out nowhere to slam McCann out of bounds, eliciting a collective "oomph!" from the crowd.

Bell had two of Arizona's four sacks on the day, with Greer and redshirt freshman defensive end Eli Wnek picking up the other two.

Senior running back Kelvin Eafon scored two touchdowns in the second half for Arizona and Canidate added one more.

Iowa managed to score one touchdown and a two-point conversion late in the game to make the final score 35-11.

"You may not believe it, but we made a lot of progress in this game," Iowa head coach Hayden Fry said. "But obviously, we didn't play well enough to win. Arizona has a tremendous football team. We knew coming in they had a lot of speed and they showed it."

The Wildcats' thoughts now turn to San Diego State, a team that awaits them Thursday night.

"San Diego State is an outstanding team," Scott said. "They're going to play us tough. We have to build up more for this game because of the short turnaround. We had some mistakes in this game and need to be better prepared for them."

Chris Jackson can be reached via e-mail at Chris.Jackson@wildcat.arizona.edu.