Bell tolls on Iowa's offense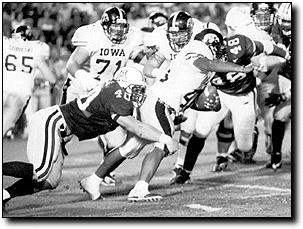 Nicholas Valenzuela
Arizona Daily Wildcat

UA junior linebacker Marcus Bell (40) wraps up Ladbell Betts (46), while senior defensive tackle Daniel Greer (48) gets ready to assist on the tackle. Bell had two sacks and Greer had one sack during Saturday's game vs. Iowa.


Every coach loves to have a player who goes at full speed every down of every game.

Arizona head coach Dick Tomey has that luxury in the form of a 6-foot-2-inch, 230-pound inside linebacker who wears his Wildcat jersey No. 40 with pride.

Junior Marcus Bell could be found just about anywhere on the field in Saturday night's impressive 35-11 blowout of the Iowa Hawkeyes.

"Marcus is just playing as well as any linebacker we have ever had here," Tomey said. "I felt he was our most outstanding defensive player last year and he has picked up right where he left off."

To define Bell's performance Saturday night one would just have to look at his sack of Iowa quarterback Kyle McCann on fourth and goal at the Wildcat 2-yard-line in the third quarter.

"It was fourth and goal and I was back in coverage. I saw the quarterback roll out and there was nobody there," Bell said. "I just tried to run through him as hard as I could, I was hoping the ball would come out. You look for somebody to make a big play in that situation, and it just happened to be me."

Bell led UA with 11 tackles, including two sacks.

But in typical Wildcat fashion, Bell was not completely satisfied with his performance.

"We have a long ways to go. We are definitely not where we want to be defensively right now," he said. "I feel that my play has gotten a lot better but I have to do more things right in the future."

Bell's play and attitude has rubbed off on other defensive players and they look at him as a leader on and off the field.

"Marcus is my role model and I look up to him a lot," redshirt freshman defensive end Eli Wnek said. "I admire his work ethic, determination and his will to win. Words can't describe what Marcus means to me."

Last year Bell was second on the team in tackles with 80, including four sacks and 10 tackles for a loss. He also recovered two fumbles and returned one for 35 yards at Arizona State.

"He's got the speed and the moves," junior quarterback Keith Smith said. "He is mentally smart and prepares hard for every game. He is a great player to have on our defense and he is a big leader on this team."

Through the first three games this season, Bell has 24 tackles, five for a loss and two sacks. He is second on the team in tackles, one behind junior free safety Rafell Jones.

"Marcus is a fabulous linebacker and he doesn't seem to get credit for that," Tomey said. "He is going to get that credit when people begin to realize exactly what he does."

Bell knows that being 3-0 is exactly where the Wildcats want to be regarding results, but he also understands that it is going to get harder from here on out. The Wildcats continue on with their Pacific 10 Conference schedule after this Thursday's contest against San Diego State.

"We are going to have to improve tremendously in every aspect of the game. It is a good start and you have to go from there," Bell said.

Dan Rosen can be reached via e-mail at Dan.Rosen@wildcat.arizona.edu.