Weary volleyball team returns home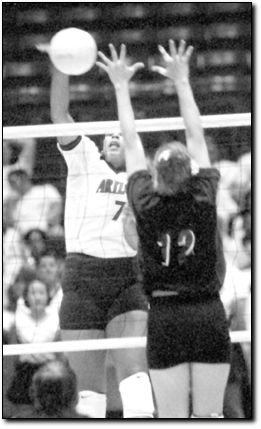 Nicholas Valenzuela
Arizona Daily Wildcat

UA outside hitter, Alison Napier (7), spikes it past Portland States' defense Sept. 12 at McKale Center. Arizona lays its perfect record on the line Friday night at McKale Center vs. Stanford.


The UA volleyball team, off to its best-ever start and a No. 14 ranking in Volleyball magazine, took a day off yesterday for the players to re-charge their batteries.

The Wildcats (10-0 overall, 2-0 Pacific 10 Conference) traveled north to Washington this weekend, defeated Washington State and Washington and didn't return to Tucson until late Sunday night.

"We started poorly on Sunday against Washington because we were sitting around all day Saturday," UA head coach David Rubio said. "The players were flying home before the match even started."

Arizona overcame a .150 hitting percentage for the match, but that was nothing compared to the Huskies' .047 mark. Washington took the first set 15-5 before Arizona swept the next three.

"Fortunately, we were able to overcome a bad start," Rubio said.

The Wildcats are now the Pac-10's only unbeaten team, something that never entered the minds of the coaches and players.

"Anyone who has been around me months before the season started knew that I was cautiously optimistic about this season," Rubio said. "Going 10-0 never entered my mind."

One player thinks that the lack of preseason pressure - they were projected to finish sixth in the Pac-10 in a pre-season coaches poll - is the reason the team is doing so well.

"We have nothing to lose," sophomore middle blocker Marisa DaLee said. "We're just building and being a team."

Arizona came out on fire Friday night, defeating Washington State 15-12, 15-7, 15-12. The Cougars were never able to take advantage of their loud home crowd because Arizona never gave them the opportunity to.

"It wasn't nearly as bad as it has been," Rubio said. "There were still quite a few people, but we played much better and took the crowd out of it. They were really young, relying on freshmen who haven't seen any play in the conference."

Arizona will lay its perfect record on the line Friday night at home against defending national champion Stanford. The Cardinal defeated preseason Pac-10 No. 1 Southern Cal at home Friday night.

"This weekend will be historical," Rubio said. "Stanford's very good but we match up well with them. It should be an exciting game."

Bryan Rosenbaum can be reached via e-mail at Bryan.Rosenbaum@wildcat.arizona.edu.