Frosh. Harrington adjusts to life, track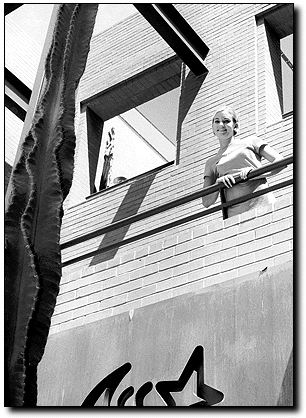 Dan Kampner
Arizona Daily Wildcat

Kelly Harrington is trying to find a balance between academics and athletics while still maintaining a social life. The freshman is redshirting this year on the cross country team to help her adjust to competition at the collegiate level.


Freshman Kelly Harrington has more to worry about than the intimidation of coming from a high school of 400 students and trying to stand out in the UA's crowd of 34,000.

Besides the academic challenges of an honor student, she also is facing the struggle of making a name for herself as an up-and-coming UA cross country and track athlete.

"Everyone was a front runner in high school," Harrington said. "You're used to being at the front. Now you're in the pack with a lot of other people as good as you or better than you. In order to compete at the college level, you have to be pretty good."

Plus, she's trying to meet people in her new surroundings.

"I love to have social pursuits. It's really a balance of all three of them," the 18-year-old said of her academic, athletic and social lives. "That doesn't mean you can't have all three."

Harrington, who selected a marketing major and wants to work in fashion advertising, is a recruited walk-on. Although she has not yet experienced intercollegiate competition, her coach said there is still concern that athletic demands can take their toll as freshmen adjust to school.

"When they first come into the commitment to academics and running, you start getting fatigued in three or four weeks, and I'm starting to see that, but that's to be expected," head coach Dave Murray said. "But Kelly was a fine student out of high school - but obviously to eliminate academic problems you've got to work hard."

Harrington ran track and cross country for private Louisville in Woodland Hills High School in West Lake Village, Calif., near Los Angeles.

"I had a good junior year," Harrington said in her La Paz dorm room decorated with the numbered tags she wore during her most memorable high school competitions. But a bout with mononucleosis stifled her performance in her senior year.

Although Murray said that prevented her from earning an athletic scholarship, she still had the heart to join the UA's program and the possibility of a scholarship in the coming years.

"Track and field is a sport where there are so many bodies and so few scholarships," Murray said. "They (walk-ons) are strong enough that they're willing to pay their way to go to school and hopefully pave their way to the future."

But that means a lot of hard work for little immediate award, and that often discourages freshmen runners, Murray said.

"A lot of times walk-ons have a difficult time adjusting to having all this training for nothing, but really you got to have a lot of patience and look down the road," Murray said. "She's a tremendously hard worker, she never misses practice and she works hard."

And practice, Harrington said, means about 20 hours a week of running and weight training, including 5 a.m. runs on Mondays and Saturdays. Although Murray said Harrington will use this cross country season as a redshirt year, she might compete when indoor track starts in January and outdoor begins on its heels, running in the 800- or 1,500-meter races, Murray said.

"Later on, in future years, she'll be running twice a day, seven days a week - it's a seven-day proposition 365 days of the year," Murray said. "They really don't have an off time during the year. A distance runner has three seasons."

Harrington said she expects it to stay manageable.

This year, she's taking 13 units, including Math 121, English 101, Management Information Systems 111 and Honors Natural Science 102.

"Right now, I want to graduate in four years," Harrington said. "But 12 units a semester isn't going to do it. Most likely, I'd take some summer school."

She said she realizes many students take five years to graduate, and she is open to the option because it would give her an opportunity to gain more education and experience before leaving the university.

Although the Honors Center provides academic support services, Harrington said she has relied mostly on the resources the athletic department provides for its student-athletes.

"The people I connected with were through the athletic department," she said, explaining how she got her placement tests, orientation and registration completed during one of her summer visits. "I can't imagine what it would be like without being an athlete."

Harrington said the athletic department's tutors and academic advisers will come in handy as she navigates her tenure at the UA. The department also has a computer lab and other academic resources for athletes.

Murray said the success of any student lies in time management.

"That's the biggest problem for students, especially when you're an athlete and you're tired and you think, 'I better sleep,'" he said. "Then you end up sleeping all day and waste time. There's enough time during the day to do everything I think to be successful."

Harrington said she places a priority on meeting new people, but the rigors of her practice schedule often get in the way.

"I find myself trying to do more activities, but it's hard to go out on Friday night because you have to get up Saturday morning," she said.

Although she didn't have time for sorority Rush in August, she said she may give that a shot soon.

"I always want to meet people and see if I like it," she said. "You don't want to be stuck in your room the whole time. I just want to go out on occasion and make the most of it."

Joseph Altman Jr. can be reached via e-mail at Joseph.Altman.Jr@wildcat.arizona.edu.