Former hairstylist stumps for Libertarian vote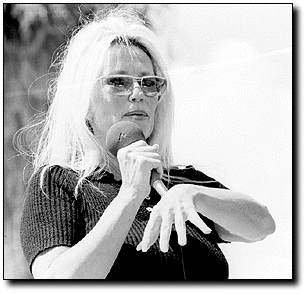 Wildcat File Photo
Arizona Daily Wildcat

KRISTY MANGOS/Arizona Daily Wildcat Arizona Libertarian gubernatorial candidate Katherine Gallant speaks about her political platform on the UA Mall yesterday. Gallant plans to return to the UA for a debate before the Nov. 3 elections.


Arizona gubernatorial candidate Katherine Gallant yesterday laid out her political platform to UA students, saying she wants to burn down a state prison and decriminalize drugs and prostitution.

Gallant spoke in a student forum hosted by KAMP Student Radio on the University of Arizona Mall. While less than 10 students asked questions, she pushed her agenda during an interview with KAMP staffers.

"The first thing I want to do is do away with homework," Gallant said to a virtually unresponsive audience.

Gallant, a Libertarian, has gained attention because she owns a Phoenix men's hair salon called "Fantasy's Executive Sweet" where women stylists cut hair wearing nothing but lingerie.

Gallant said the salon has been in business for 14 years. She bought it several years ago, after working as a stylist.

She went on to push her libertarian beliefs about freedom and human rights.

"I'm about freedom," Gallant said. "I think it's something that we're lacking in our government today. I'm not your typical candidate - I actually believe in people."

Gallant said she is staunchly opposed to imprisoning drug addicts, and said Sheriff Joe Arpaio's abusive "Tent City" prison in Maricopa county holds mostly drug offenders.

"I want to burn down Tent City in Phoenix," she said. "I am opposed to the abuses going on in that jail."

According to Gallant, inmates are kept outside in tents, deprived of water and left to suffer in the 110 degree desert heat.

An audience member yelled a question at Gallant, asking her why she is with the "dope-smoking libertarians" when she could come to the "grand-ole (Republican) party."

Gallant said because Democrats are acting more and more like Republicans, the state needs another party. She said she was referring to many Democrats, like Eddie Basha, a Chandler businessman and former Arizona Board of Regents president, who formally endorsed Gov. Jane Hull, a Republican.

Gallant was careful to point out she does not advocate the use of drugs.

"I have seven sons and not one of them uses drugs," she said. "Don't think that I support marijuana - I'm just opposed to putting people in jail with drug addictions."

Economics sophomore Travis Klein questioned Gallant about gun control, and rights of the citizens to carry firearms.

"As a woman who owns a 20-gage shotgun, if you don't have the right to protect yourself in America, what do you have?" Gallant said, as she proclaimed her support for the second constitutional amendment.

After the forum, Gallant talked about her main opponents, Hull and Democratic candidate Paul Johnson.

"Johnson wants the little kids to wear little Nazi uniforms, for heaven sake," she said, referring to Johnson's public school uniform plan. "Poor Johnson, he's just some poor fish out of water."

Gallant also criticized Democrats for their sudden support of Hull.

"The Democrats are coming out in support of Hull because she's bending over backwards for them," she said, referring to endorsements by individuals like Basha.

Gallant closed the forum by encouraging students to believe in her ideas and follow their dreams.

"Don't ever underestimate a blonde, especially when she has dark roots," she said. "If you don't remember anything else I've said today, remember that."

David J. Cieslak can be reached via e-mail at David.J.Cieslak@wildcat.arizona.edu.