Transfers should be key to Icecats' season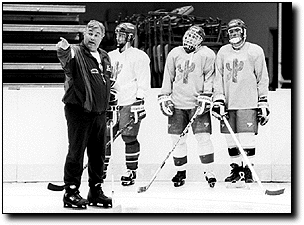 Wildcat File Photo
Arizona Daily Wildcat

Icecats head coach Leo Golembiewski gives Icecats players instructions during last year's Icecat training camp. The team will play Minot State at the TCC Oct. 9 and 10 lead by transfer players Mark Meister and Eugene Mesh


When the Arizona Icecats skate back into action Oct. 9-10 against Minot State at the Tucson Convention Center, the majority of the players on the team will be freshmen or transfers.

"I am pretty pleased with our recruits and we feel we have a lot of depth," Icecats head coach Leo Golembiewski said.

Two of the most prized recruits the Icecats grabbed are transfers Mark Meister and Eugene Mesh. Meister, a goaltender from Toronto, Ontario, and Mesh, a left wing/center from New City, N.Y. transferred from Villanova after the hockey program there was discontinued.

"I had other options to transfer elsewhere, but if I transferred to a Division I school, I would have to sit out a year. I was not ready to do that," Meister said. "I wanted to come to Arizona because of their winning tradition. I enjoyed the time I spent here with Leo and the players and that had a large impact on my decision."

Mesh had a pretty similar take to Meister's.

"I was looking to get into a situation where I have a chance to win," Mesh said. "That was not the situation I was in at Villanova."

The two players bring valuable experience from their playing time in the ECAC South Conference.

The Icecats have made the playoffs 16 years in a row and the two roommates are looking to elevate the team to the next level.

"With two years of competition against D-I schools, I think I can contribute immediately. I believe both Eugene and I can make an immediate impact," Meister said.

"Experience is a big key," Mesh said.

With the team looking good after the first few weeks of practices, both players had a lot of praise for their teammates.

"I think we have a very strong team this year with great depth," Mesh said. "Our forwards all look solid, and we have six quality defensemen."

"I think we have a good group of guys," Meister said. "Our returning players look very good, our top four lines look very solid, and we have an improved defense."

Both transfers come to the team ready to settle into the Icecats' different style of play than what they are used to.

"I just hope to fit whatever role coach designs for me, whether it be offensive or defensive," Mesh said.

Meister also said it is Golembiewski's decision in terms of what role he'll play.

"Whatever coach thinks is best, is good enough for me," Meister added.

With Meister doing a brick wall imitation in the net and Mesh adding some punch to the offense, the Icecats are looking strong.

Mike Jenkins can be reached via e-mail at Mike.Jenkins@wildcat.arizona.edu.