Payne goes from redshirt to starter in one week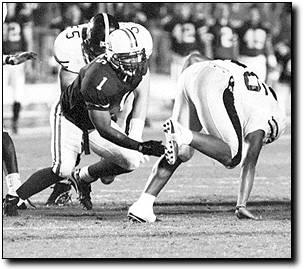 Katherine K. Gardiner
Arizona Daily Wildcat

UA junior defensive back Rafell Jones (1) gets ready to tackle a stumbling Hawkeye running back Saturday night at Wildcat Stadium. The Wildcats face off against San Diego State tomorrow in San Diego.


As the second half of the Arizona-Iowa game rolled on last weekend, the UA defensive backfield seemed to have its members dropping with injuries.

Yesterday, though, head coach Dick Tomey said that most of the walking wounded will be healed in time to play San Diego State tomorrow night.

"I don't think it'll really be a factor," Tomey said. "They'll all play except (LaChaux) Rich."

Rich, a senior strong safety, will miss the game in San Diego and possibly more down the road.

"They don't know for sure right now, but it might be torn ligaments in my foot," he said.

Rich will have an MRI tomorrow, forcing Tomey to cancel plans to redshirt junior defensive back Greg Payne.

"He had a real good week of practice," Rich said. "It will be a good game with him in there."

Payne said he is determined to do his best to help the team, and he is also aware that the pass-happy Aztecs might notice him.

"I'm sure they'll focus on me," he said. "They'll want to test me a few times, I'm sure."

Payne used to play corner but said safety is "basically the same."

As for Rich, knowing he won't have to sit on the sidelines tomorrow night is actually a good thing.

"I don't want to be up there, sitting around and feeling frustrated," he said. "Right now everything is hanging in the balance."

Ê Ê
---
With the Wildcats traveling as much as they have, one might wonder what shape the players are in academically.
Redshirt freshman defensive end Eli Wnek said it is a concern among some of the players.
"We're student athletes going to miss a couple days again," he said. "It's starting to add up for us."
All told the Wildcats have missed four days so far and will likely add another two with tomorrow's game at San Diego State.
The good news is that the team will be at home during the principal midterm period, so the classes missed so far aren't likely to be as important in the long run.
Ê Ê
---
San Diego State head coach Ted Tollner has reason to be concerned about tomorrow night's game.
"The people that beat us a year ago are mostly back in the key spots," he said.
Standouts in Arizona's 31-28 win in Tucson last year include junior running back Trung Canidate (16 carries for 142 yards and a touchdown), senior defensive tackle Daniel Greer (2.5 sacks), junior wide receiver Dennis Northcutt (six receptions for 121 yards and two touchdowns) and sophomore quarterback Ortege Jenkins (17 of 32 for 285 yards and three touchdowns).
Last year's game marked Jenkins' first collegiate start as he led the Wildcats back from a 21-0 deficit.
Adding to the bad news for Tollner is that Canidate "didn't consider it a good game."
"I was playing on a fractured foot," Canidate said. "I'm pleased to know I'm healthy for this game."
Despite running for only 69 yards against Iowa, Canidate is confident going up against an Aztecs' line that Tomey has been praising all week.
"I don't know if they (Iowa) were able to contain me," he said. "It's just a matter of what you define as containment."
Chris Jackson can be reached via e-mail at Chris.Jackson@wildcat.arizona.edu.