UA faces defending nat'l volleyball champs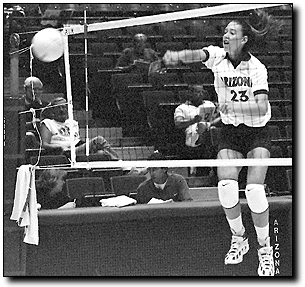 Aaron Wickenden
Arizona Daily Wildcat

Freshman outsider Lesley DuBois (23) spikes the ball during the Varsity Clubs of America Classic at the McKale Center. The Wildcats play Stanford, a team they have not beaten since 1993, tonight at McKale Center at 7 p.m.


Stanford comes to town tonight to provide the UA volleyball team with its biggest test of the season.

Two-time defending national champion and No. 7-ranked Stanford (6-2 overall, 2-0 Pacific 10 Conference) squares off with Arizona (10-0, 2-0), the early leader in the Pac-10, at McKale Center tonight at 7 p.m.

Stanford is led by junior All-American outside hitter Kerri Walsh. The Cardinal defeated preseason Pac-10 favorite Southern Cal at home last weekend.

Walsh is averaging 4.08 kills (seventh in the Pac-10), a .421 hitting percentage (first) and 1.44 digs (fifth) per game. She doesn't seem to be bothered by off-season surgery on her right shoulder and has taken a larger leadership role on a relatively young team.

"Kerri Walsh is so good; it's fun to see if we can make life a little more difficult for her," UA assistant coach Chris Lamb said.

Trying to do that will be senior middle blocker Keisha Johnson Demps, sophomore middle blocker Marisa DaLee and sophomore outside hitter Allison Napier. UA head coach David Rubio expects everyone on his young team to step up and play a key role tonight.

"This team has the ability to rise to that level and beat Stanford," Rubio said. "My biggest concern is that we're still young. It's going to be good for us to play a team at this level because we play to the level of our opponent."

Stanford will be the first opponent to be ranked higher than Arizona that the Wildcats have played this year, something that excites the players and coaches.

"Stanford is rebuilding, but we finally get to look up at our opponent," assistant coach Charita Johnson said. "We match up well with them."

Johnson Demps sized up the Cardinal.

"They're big and we're big," she said. "I'm looking forward to see how we'll do because this is the best team we've played."

Arizona is riding a school-best 10-game winning streak but has not defeated the Cardinal since 1993.

"This is a great year for us to beat Stanford," Lamb said. "This weekend is much tougher than last weekend."

Assistant coach Ryan Call agreed with Lamb.

"This will be the biggest test of the year for us," Call said. "This should tell us where we stand."

Arizona hosts California (3-7, 0-2) Sunday at 1 p.m., a team the Wildcats have taken the last four matches from.

The last thing UA wants after such a physical and emotional match tonight is a letdown Sunday afternoon.

"Obviously, that's something you have to worry about playing in such a difficult conference as the Pac-10," Johnson said. "You have to distribute your energy well from one match to the next, and having a day off in between matches is really helpful."

Rubio is taking it one match at a time.

"The players understand the magnitude of Stanford, and it's going to be fun on Friday night," he said. "You have to believe that we can beat them."

Bryan Rosenbaum can be reached via e-mail at Bryan.Rosenbaum@wildcat.arizona.edu.