Denver to face Wildcats in soccer home opener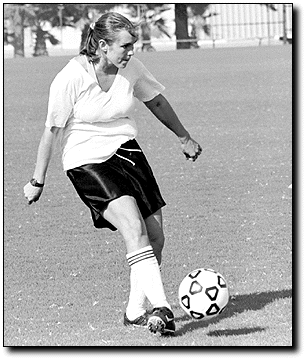 Wildcat File Photo
Arizona Daily Wildcat

Sophomore midfielder Brooke McManus passes the ball at practice. The Wildcats play Denver tonight at 7 p.m. at Murphey Stadium.


There might not be a home football game this week, but no one has to miss kickoff because the UA women's soccer team opens at home against Denver tonight at 7 p.m. at Murphey Stadium.

"We're so happy to be home," senior forward Nikki Jones said. "We're really excited to be back here. We played good on the road, but it was exhausting."

After six games on the road the Wildcats returned home with a 1-4-1 record. The four losses prevented the team from achieving its original goal of only two losses while traveling.

"We were disappointed," assistant coach Jen Netherwood said. "But sometimes you set goals and they don't happen. So you move on to the next goals and focus on making those happen."

She added that for now the team's short-term goals consist of walking away from this weekend with two wins. Hopefully, after accomplishing that, the team will set more goals to work toward for Pacific 10 Conference play, Netherwood said.

Sophomore Brooke McManus and freshman Twila Kaufman, both midfielders, have led the team in scoring with two goals scored apiece

Sophomore midfielder Kendra Gefvert and sophomore forward Elena Galvan have also scored goals this season.

The focus of practice this past week was aimed toward adding onto this scoring list.

"We've been working on finishing. We played good in Virginia and at our other road games, but we just weren't finishing the opportunities we created," Netherwood said.

The Wildcats fell to Kansas, 1-0, and George Washington, 2-1, at the James Madison Tournament in Harrisonburg, Va., last weekend.

Arizona is focusing on shaking off these losses and adding a win when the team faces Denver tonight.

"This will be a good, even game," Netherwood said. "Denver has a fairly young program and this will be our first time to play them. They're also coming off two wins, so they'll be up for the game."

But that shouldn't take the Wildcats off their game. The team is excited to be back home to play.

"There's a lot of stress on us when we're on the road," McManus said. "It's hard to miss your classes and being away from your social life and everything going on here. ... It's draining. Being home is going to do a lot for us."

The team is confident it will have it together tonight, the players and coaches said. The Wildcats have been focused and controlled possession of the ball in the past games, but have struggled with finishing their shots, assistant coach Bruce Caris said.

But with the home opener ahead and a week of mental preparation and scoring focus behind them, McManus thinks the Wildcats are in the right mindset for victory.

"It pumps us up having fans to cheer for us," she said. "The positive energy gives us a lot of confidence."

Kate Longworth can be reached via e-mail at Kate.Longworth@wildcat.arizona.edu.