Volleyball team hammers Golden Bears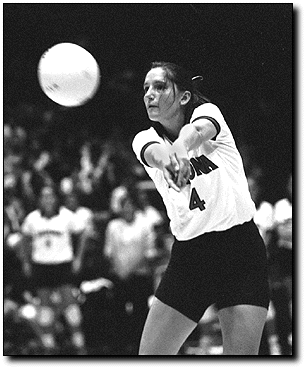 Nicholas Valenzuela
Arizona Daily Wildcat

UA junior outside hitter Raelene Elam makes a pass during Arizona's game against Stanford Friday in McKale Center. Elam had 20 kills against Stanford and 14 kills against Cal.


After dropping a disappointing match to Stanford Friday night, the UA volleyball team made amends by sweeping California yesterday afternoon.

Two-time defending national champion and No. 6-ranked Stanford (8-2 overall, 4-0 Pacific 10 Conference) defeated Arizona (11-1, 3-1) 15-9, 15-12, 13-15, 15-7 before 2,963 fans at McKale Center in the match between the two early front-runners in the conference.

Arizona bounced back and defeated the Golden Bears (3-9, 0-4) 15-9, 15-9, 15-9 before 611 fans at McKale yesterday.

"The team has to go through these early stages," UA head coach David Rubio said. "We have every reason to be able to compete and beat a team like Stanford. Beating Cal is OK, but nothing to write home about. Stanford is the one we wanted."

Junior outside hitter Raelene Elam had a strong weekend, with 20 kills against Stanford and 14 kills against Cal, both match-highs.

"When you lose to a team, you try to wipe it out of your mind and move on," Elam said. "It always feels good to win, but it feels even better if you're coming off a win Friday night."

Rubio had nothing but praise for Elam's efforts.

"Rae shows up every single night," he said. "Even if she struggles, she still shows up. She came up with a lot of big kills this weekend."

Arizona hit only .124, compared to Stanford's .202. Arizona improved to .211 yesterday while holding Cal to a miserable .016.

"You just need to concentrate a little more," Elam said. "It's something we all have, and we may lose it every once and a while, and we have to get it back."

Concentration, or a lack thereof, hurt Arizona against Stanford. Up 9-2 in the second game, the Wildcats allowed the Cardinal to come back, and eventually lost it.

"I'm happy we won," Stanford head coach Don Shaw said. "This match was typical of how a lot of Pac-10 games are going to go. Tonight, we had to do what we had to do to win, and it wasn't always pretty. Arizona's going to get better."

Rubio said that Arizona's youthful inexperience hurt them in terms of preparation.

"We're not in the position to take any team lightly," Rubio said. "It's more of us being prepared for every single match. With this particular group, I'm not sure we're going to get that every night, because of the youth."

Middle blockers Keisha Johnson Demps and Marisa DaLee again had strong weekends. Johnson Demps had 12 kills in both matches, while DaLee had 17 and 11 kills against Stanford and Cal, respectively. DaLee also hit a team-high .500 against Cal.

"A win is always good," Johnson Demps said. "A lot of us probably took the hammer to Cal. We're still not playing our best volleyball, and we're waiting to play consistent as a team and get better."

Two freshmen, Jill Talbot and Lesley DuBois, played key roles at outside hitter this weekend while Allison Napier struggled. Talbot, who started both matches, had five and six kills, while DuBois had two and three kills while hitting .300 against Cal off the bench.

"It's easier to start a match than come off the bench and get into the rhythm of the game," DuBois said. "Physically, it's hard, but mentally, you're standing on the bench seeing what's going on the court. I came in and told everybody what I saw, and I think we picked it up. It's always good to win, but we could have come out even stronger and put them away."

Freshman setter Dana Burkholder had 97 assists and is growing more and more comfortable in her leadership role.

"Dana has a real confidence in Jill, especially in crunch-time," Rubio said. "The players get a day off tomorrow. They get a day off from each other and a day off from volleyball. I feel that we need a bye week."

Bryan Rosenbaum can be reached via e-mail at Bryan.Rosenbaum@wildcat.arizona.edu.