Football team has mixed reaction to win at SDSU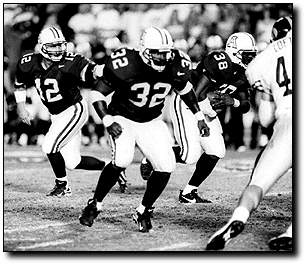 Katherine K. Gardiner
Arizona Daily Wildcat

UA quarterback Keith Smith (12) hands off to running back Kelvin Eafon (38) and tight end Paul Shields prepares to lay down a block during Arizona's game against Iowa last weekend.


It wasn't the prettiest win of the season, but No. 14-ranked Arizona's 35-16 win over San Diego State last Thursday was still a win.

"We had a good combination of a lot of things," head coach Dick Tomey said. "They (SDSU) played their buns off. They did a great job in the second half. They played with a lot of pride, which was a credit to coach (Ted) Tollner."

Arizona was up 28-3 at the half, but the Aztecs outplayed the Wildcats for most of the second half, led by running back Larry Ned's 146 yards on 33 carries and one touchdown.

"That running back. I don't know if we'll ever play anyone as good as him again," Tomey said.

Tomey attributed Ned's ability to rack up yardage to the Arizona defense's inability to grab onto him or any other Aztec.

"We did not tackle as well as I would hope," he said.

UA sophomore quarterback Ortege Jenkins had his own thoughts on the game.

"We weren't really satisfied with the win," he said. "We just didn't focus well enough in the second half."

Jenkins was 6 of 9 for 75 yards, with one interception and a touchdown pass to senior wide receiver Jeremy McDaniel in the third quarter.

He continued to split time evenly with junior Keith Smith, who was 10 of 16 for 121 yards, one touchdown pass to McDaniel and two touchdown runs on his own.

Tomey said that the two-quarterback system will continue, but there may be some changes ahead.

"We're not going to change what we're doing," he said. "But it probably won't be as clean as it has been, from first quarter to second quarter."

Smith stayed in the game at the start of the second quarter as he was leading a drive at the time, so he actually played more than Jenkins.

"These games coming up are going to be more competitive, so we'll see what happens," Tomey said.

Jenkins said that the team's focus is now solely on Saturday's game at Washington.

"I don't know," he said when asked if the Huskies will be tougher after they lost 55-7 to No. 2 Nebraska this weekend. "It's just going to be the best team we've faced so far. We're not concerned with how they're feeling, we just have to be concerned about ourselves."

Concerning the Wildcats, no new injuries came out of the game with the Aztecs, but two older injuries continue to hamper the team.

Strong safety LaChaux Rich is out for an indefinite amount of time with a foot injury which Tomey wouldn't elaborate on. In his place junior Greg Payne, a player whom Tomey had planned to redshirt, started against SDSU.

"When we brought him here we thought he could be a four position guy," Tomey said of Payne's ability to play both as a corner and a safety. "He did a great job in his first start. We needed that from him."

Junior wide receiver Brad Brennan, who injured his ankle against Stanford, is still on the sidelines.

"I hope so," Tomey said of Brennan's possible return against the Huskies. "But I don't know right now. He's trying hard. I wish he could play, he helps us a lot, but my guess is he's still a week away."

Brennan said things are improving, albeit slowly.

"I'm feeling a little better," he said. "I can run straight ahead fine, it's the cutting that's still a little hard."

Jenkins said Brennan's absence has been felt.

"He's very important to us," Jenkins said. "He led the team in yards per catch last year. He's a valuable asset to the team. When I want to throw the ball and know that it's going to be caught I throw it to him."

Brennan said he will have "a bunch of treatments this week" so he can play again.

"I'm getting really tired of sitting around," he said

Chris Jackson can be reached via e-mail at Chris.Jackson@wildcat.arizona.edu.