Struggle for net freedom continues, UA dean says
Kate Goff
Arizona Daily Wildcat
September 29, 1998


Send comments to: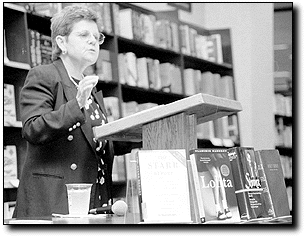 Matt Heistand
Arizona Daily Wildcat

UA Dean of Libraries Carla Stoffle speaks at Barnes and Noble Bookstore in the Foothills Mall yesterday night. Stoffle appeared in recognition of National Banned Books Week.


The UA's top library administrator warned last night that the fight to keep cyberspace free from censorship is far from over.

In Arizona, a law forcing libraries to filter the Internet has come close to passing twice, said UA Library Dean Carla Stoffle, who spoke last night at Tucson's Foothills Mall Barnes & Noble bookstore. Nationally, Congress passed the Communications Decency Act in 1996, which could have regulated Internet content.

But after a lengthy battle in federal court, the U.S. Supreme Court ruled unanimously in 1997 that the law was unconstitutional.

Stoffle's speech, "Book Publishing, Censorship and the Internet," was part of Barnes & Noble's Book Banning Week, an event to celebrate free expression by remembering the history of literary oppression.

Such laws would have forced the University of Arizona's libraries to either close their doors to students younger than 18 or use the online screening programs that filter out adult-oriented sites, she said.

Stoffle predicted that more laws restricting Internet use can be expected in the future but questioned the fairness of such legislation.

"Who decides what is reasonable and what is not? We don't know how to limit it (the Internet) because we don't know what to limit," she said.

Stoffle also warned against "economic censorship," which she said is already prevalent.

Means of expression that do not turn a profit may soon be unavailable to the public, she said.

"Only commercially viable materials will be available in our libraries," Stoffle said, adding that the UA is working to stop all forms of Internet censorship.

The university has joined the Scholarly Publishing and Academic Resource Coalition, a group trying to find ways of improving electronic distribution to provide better access to information.

UA librarians are trying to educate legislators about the dangers of censorship, especially on the Internet, she said.

According to Stoffle, another danger is the restriction of the "fair use concept" as it applies to the Internet.

The fair use concept allows libraries to loan books to the public without paying copyright fees. New laws could restrict libraries from applying the concept to online resources, she said.

Stoffle said an important UA goal should be "making sure we have all access to that which we are legally entitled."

Much of the presentation dealt with the Internet and the many legislative attempts to restrict its use in schools and libraries.

She said most librarians don't want to decide for parents what is acceptable and would rather not use software that limits free access.

Stoffle compared recent Internet censorship attempts to book banning. She mentioned that the Nazis in Germany burned numerous books, and that libraries in Germany are just now rebuilding their collections.

About half of Random House Modern Library's recently released top 100 novels of all time are books that were banned or challenged at some point, she said.

"What would our world be like if we weren't able to read these masterpieces?" Stoffle said.

Libraries must constantly fight against all types of banning and censorship, she said.

"It's a spirit based on the belief that people need unfettered access to information in a democracy," Stoffle said.

Kate Goff can be reached via e-mail at Kate.Goff@wildcat.arizona.edu.