Diversity matters strike the UA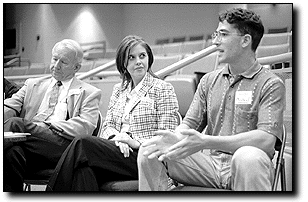 Dan Kampner
Arizona Daily Wildcat

Michael Bauti (left), represents the UA Pagan community at the Religious Awareness and Diversity Week Panel Discussion last night at the Kiva Auditorium as Teresa Cowan Jones, a Methodist representative and Steve Powers of the Baha'i Faith listen. This discussion started a week of activities sponsored by the Religious Awareness and Diversity Student Club and the University Religious Council.


From agnosticism to Christianity to Zoroastrianism, religious diversity may be the topic of choice for many UA students this week as two campus clubs partner to teach others about varying faiths.

The UA Religious Awareness and Diversity Club and University Religious Council teamed up this week with a series of events titled "Soul Food: What's on Your Religious Plate? Eliminating the Bad Taste of Religion and Savoring the Flavors of Diversity."

"First, we want to teach about religious diversity on campus, and then we want students of different religions to talk to each other and be civil," said Allen Breckenridge, an Episcopalian minister involved in the events.

Breckenridge's comments came at the conclusion of a panel discussion last night where 10 different religions were represented.

"When you believe so much in truth, you only see truth, and you substitute your opinion for God's opinion," said UA student Jason Caywood of the Intervarsity Christian Fellowship.

The 12 panelists answered questions about their religion and dispelled stereotypes they considered false.

"For me, this is the beginning of a 10-year project of building toward the mission of religious diversity and awareness," said Sat Bir Kaur Khalsa, a Sikh panelist and UA student.

Several panelists also said people are deterred from religion because of the popular conception that followers of different faiths are not accepting of others' beliefs.

Breckenridge said the panel discussions that continue tonight aim to promote the interfaith dialog principles of mutual understanding and common action among different faiths.

"I think if we can create a bureau of peace and harmony it would be great," said panelist Carol Locust, an American Indian and researcher at Arizona Health Sciences Center.

Stephanie Corns can be reached via e-mail at Stephanie.Corns@wildcat.arizona.edu.